Why PCA SKIN's New Cleansing Oil Is The Missing Step In Your Face-Washing Routine
ImaxTree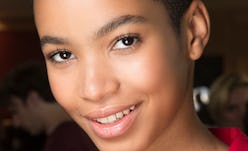 Even a beauty maximalist likely doesn't love the idea of adding yet another step to an already-involved skin care routine. But if there's anything that could convince you to change your mind, let it be pre-cleansers. After all, the rest of your regime is essentially moot if you're not making sure that you've got a clean canvas to work with — so it's worth the extra wash to basically guarantee the rest of your treatments get to do their jobs right. Enter PCA SKIN's new Daily Cleansing Oil, which is here to help melt off every trace of makeup before you even reach for your regular cleanser, meaning your skin will be cleaner than ever.
Th aesthetician-founded, dermatologist-developed skin care line is known for its effective treatments like its cult-loved chemical peels which instantly reveal brighter, younger, smoother, all-around happier skin. But before such a game-changing product can get to work on your face, an ultra clean complexion is of the utmost importance. So it only makes sense that PCA SKIN's newest drop would focus on just that, with an innovative pre-cleanser that kicks off your face-washing routine on the right foot.
PCA SKIN's Daily Cleansing Oil, $38 and now available on the brand's website, uses lightweight and skin-conditioning natural oils and moisturizers to dissolve makeup, oil, dirt, and more impurities so it can be washed away with ease. The luxurious blend of fatty acid-rich grape seed oil, soothing sweet almond oil, and strengthening vitamin E is your first line of defense against blocked pores and dull, uneven skin, but it does its job gently without compromising your skin's protective barrier or stripping it of essential moisture.
At the end of the day (and in the morning too, if you like) apply two or three pumps of the emollient cleansing oil with dry hands onto dry skin. In circular motions, massage the oil into your skin to begin melting away the day's dirt and makeup (or the sleeping mask you applied before you went to bed the night before). Then, wet your hands and splash some water onto your face to work the cleanser into a luxe, creamy lather — this will help sweep impurities off and away from your pores, prepping your skin for the rest of your routine. Rinse it off with warm water before cleansing with your regular face wash, then follow with the toner, serums, and moisturizer of your choice.
Convinced that pre-cleansing is worth the extra step? Snag PCA SKIN's luxe, hydrating, deep-cleaning new cleansing oil, below.