This New L'Occitane Cleanser Collection Has Something For Every Skin Type
L'Occitane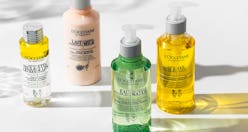 No matter your skin type and no matter how involved your skin care routine is, a really good cleanser is downright essential. But as with any other item in a beauty arsenal, face washes aren't once size (or formula) fits all. It may take some trial and error to find the wash that works best for your skin, giving you an effective clean without throwing off your complexion's balance. Luckily, L'Occitane's new Transformative Cleanser Collection just so happens to include six different face washes for you to choose from — and with formulations fit for just about any complexion type, finding your perfect match just got a whole lot easier. Squeaky clean skin, right this way.
Looking for a naturally-fueled face-perfecting cleanser that actually works with your complexion? You can call off the search now, because L'Occitane just launched an entire new range of cleansers to cover all skin types — yep, all of them — so you can snag the one that's right for your skin care routine. You'll be able to choose from three different textures and a grand total of six formulations for a nearly personalized take on face wash that'll leave your complexion feeling clean and comfortable. So, which one is for you?
L'Occitane's Transformative Cleanser Collection, which arrived in stores and online on Sept. 4, is looking out for your skin with six fresh face washes, $24 each, in every texture you could imagine (seriously). You'll be able to choose from creamy, conditioning milks, refreshing and purifying waters, or silky, softening oils, so whether your skin trends tight and dry, sensitive and redness prone, or oily and unbalanced, this new line has the wash for you.
For sensitive skin that's in need of a soft, conditioning clean, the Cleansing Cream-to-Foam and Cleansing Milk could be your solution — both creamy milk-textures cleansers are formulated with organic honey and figs from Provence for a softening, skin-protecting effect. As the name suggests, the cream-to-foam transforms from the milky cream to a luxurious lather to wash away impurities, while the cleansing milk is a rich, conditioning emulsion that removes even waterproof makeup while leaving skin clean and soft (never tight).
Looking for a super-refreshing deep cleanse? L'Occitane's new water-based cleansers infused with cucumber and thyme are the way to go. The Cleansing 3-in-1 Micellar Water relies on a rush of refreshing micelles that whisk dirt and makeup away from pores for a completely clean complexion, while the Cleansing Gel-to-Foam wakes skin up with a revitalizing gel that transforms into a gentle, bubbling foam to remove makeup and impurities that may be lingering on skin.
If you need a more hydrating clean, reach for L'Occitane's Cleansing Oil-to-Milk and Eyes and Lips Bi-Phasic Makeup Remover, which rely on botanical oils and calendula to gently remove impurities and leave skin supple, moisturized, and balanced. You'll be able to get stubborn makeup like mascara and lipstick off, without irritating or drying your complexion, so your face looks naturally glowing and healthy.
Find your perfect-match face wash by scrolling through all six new cleansers from L'Occitane, below.