The Skincare Products Tatcha's Founder Recommends For Summer (& How To Use Them In Your Routine)
Tatcha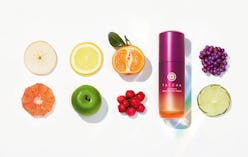 As you click through Sephora's website, hunting for the best Tatcha skincare products, you may find yourself with more questions than answers. If so, you're not alone. "I'm often asked about understanding J-beauty and how to incorporate it into one's skincare routine. People are really interested in the idea of high-quality ingredients that have withstood the test of time, but they don't always understand how to apply that to themselves," explains Vicky Tsai — founder of the luxury J-beauty brand Tatcha and speaker at the recent stop of the SEPHORiA Masterclass Tour in Houston — to The Zoe Report over email. And while Tsai helped lead a masterclass over the weekend, the beauty mogul had a few extra tips to share with TZR — including which products she personally adores.
There can be a learning curve to Tatcha's lineup, though. "I'm often asked what an essence is, or how to use cleansing oil, or what daily exfoliant does for the skin? People also want to know how they can use skin care to make makeup go on easier and last longer. Lately, 'clean' has been a big source of questions — what does it mean, how important is it, what ingredients should I look for or avoid?" Tsai explains. (Tatcha's products fall under the Clean at Sephora umbrella, which means they're specifically made without certain ingredients like parabens or sulfates.)
However, Tsai notes that there are plenty of easy-to-understand skincare steps you can take at home — whether you're a newbie or not. "First and foremost: sunscreen! You should be wearing one every day," Tsai says. "We created our Silken Pore Perfecting Sunscreen to be free of any questionable ingredients, and lightweight enough to wear every day, even under makeup. It has silk extract in it for a bit of hydration and leaves skin with a satiny finish."
Make sure you keep an eye on your local weather station, too. "Your skin may need different moisturizers based on the weather and humidity. In the summer, try a lighter moisturizer like The Water Cream — it's an oil-free formula with Japanese wild rose to help clear and tighten pores," Tsai notes. "Even in humid weather, skin is in need of hydration. We created The Satin Skin Mist to help keep skin hydrated and oil balanced — it has Okinawa Kucha clay to help absorb excess oil, and a water-light formula to keep skin hydrated and nourished."
Of course, you may get all your burning skincare questions answered if you happen to live close enough to attend the SEPHORiA festival and Tsai's beauty workshop. "The masterclass is about re-thinking skincare as self-care. We often disassociate our skin from our mental, physical, and spiritual health," she says. "We'll be talking about how your skin is a reflection, and caring for it isn't about more steps and harsher ingredients; it's about caring for yourself."
Feeling prepared to embark on your skincare journey? Tsai also shared seven of her personal favorite Tatcha products with TZR — and you can see all of them just by scrolling down.
Shop Vicky Tsai's Tatcha Picks