This Outdoor Furniture Set Will Have Your Patio Looking As Chic As Your Living Room
Target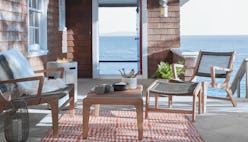 When it comes to decorating, your interior spaces likely have all your attention this time of year. That means purchasing pieces for your outdoor spaces often gets pushed to the back burner, only to leave you scrambling to find stylish seating when it comes time to host al fresco dinner parties and spring celebrations. While you might be dreading having to buy even more furniture, being prepared for the warm weather affairs actually doesn't have to cost you an arm and leg. In fact, there's so much cheap patio furniture at Target, you might be able to get everything you need without putting a dent in your budget at all.
Yes, if you're not yet aware, your favorite place to stock up on household essentials has a strong lineup of outdoor furniture. And as if that wasn't enough, a slew of the already wallet-friendly retailer's offerings are on sale. In one swoop, you can score a discounted dining set, sofa, and accent pieces to pull your patio together to really wow your guests (and yourself).
If BBQ gatherings are in your future, take a peek at the wide range of dining tables and chairs that have been marked down, including this elevated $826.49 7-piece set from Threshold which can seat up to six people. Add a few colorful pillows, pop an umbrella in the center slot, and voilà: You have a space you'll enjoy spending many a summer day. Need even more seating? Shop the matching sectional for $522.49, to relax on post-dinner for cocktails under the stars.
Got a more mid-century modern vibe going on in your space? It's entirely possible to keep it going outside, too, with the help of Project 62's 2-piece wood and rope patio club chair and ottoman. If you only have limited patio space to work with, this set is a great buy for $360.99; it'll provide comfortable, stylish seating for afternoons spent reading in the sun.
You don't have to sacrifice your home's aesthetic when it comes to finding well-priced pieces for your patio. Toss the old plastic styles you bought at the eleventh hour last year and shop top sale picks from Target that you'll be excited to use (and show off) when the warm weather arrives.