Olive & June Created A Summer Nail Polish Collection Thanks To Fans' *Very* Enthusiastic Feedback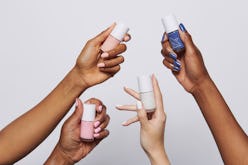 In essence, summer is the season of fun. It signals the arrival of warmer weather, plenty of parties, and hopefully, a long, luxurious vacation somewhere fantastic. But even if you're staying put in your city all season, you'll want something to put you in the vacay mood. Enter Olive & June's summer nail polish collection, a tight edit of four gorgeous shades that'll have you feeling ready to frolic in the sun. And with a no-chip formula that fans can't stop raving about, these polishes will keep your nails looking perfect all season.
For as long as anyone can remember, it's been a few big names that have basically ruled the world of nail polish (and you can probably name them off the top of your head). But the increased interest in cleaner beauty alternatives has created space for up-and-coming brands to make a splash. That's where Olive & June comes in. The brand started out as a cult-loved nail salon in Los Angeles, but now boasts its own edit of nail care and seven-free (aka better-for-you) lacquers — and it's been expanded just in time for summer.
Olive & June's summer polish collection, which launched exclusively at the brand's site on June 21, consists of four fresh shades meant to set the mood for the hottest season. And unlike other nail brands' summer collections, which seem to focus on notice-me neons and other bright hues, this collection presents a more refined, tightly-edited approach to summer manicures. But make no mistake, these shades will still make a statement.
Again named for Olive & June's besties, these $8 polishes are dubbed SE, BI, HD, and CNH. First up is SE, a bubblegum pink perfect for summer parties. BI, on the other hand, is a more peachy shade that perfectly matches a sunset sky, and HD presents an essential white to make your tan pop. Last up is CNH, a denim-blue shade that's daring and can easily be dressed up or down. All four feel so essential, you'd be surprised to know the brand wasn't even going to do a summer launch at all.
"We are launching a surprise summer collection because we have had such an overwhelming positive response to our long lasting, 7 free formula," Olive & June founder Sarah Gibson Tuttle tells The Zoe Report. "We are asked daily on DM, email, and in salon to create more shades in this formula that women are getting such incredible wear out of."
And so they did. Just like the brand's first six-polish collection (which sold out two times over upon its March debut), the new additions are made from the same long-lasting formula that keeps your manicure free of chips for seven days on average — much longer than any other seven-free polishes. In fact, it's been proven by the brand's patrons themselves.
"We recently hosted a Mani Marathon where women across the country painted their nails together and the longest lasting mani would win a free year's worth of polish. We had so many women with chip free polish at Day 14 that we called the challenge and awarded everyone at that point! One woman even kept going to Day 17! It was incredible," Gibson Tuttle says.
And to keep your manicures going as long as possible, Olive & June also introduced the K.I.T. kit, $26, with all the tools you need to keep it looking good: A top coat, cuticle serum, and a nail file (in case of a break). "The K.I.T Kit was created for every girl with a polish mani. We want to help you protect your polish as long as we possibly can!" Gibson Tuttle tells TZR.
Ready to score them for yourself? Keep scrolling to see Olive & June's summer collection, below.