This Cult-Favorite Drugstore Brand Created A Highlighter That Works For Your Body, Too
ImaxTree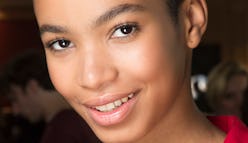 At this point in the winter, you're far from alone when it comes to spending countless hours daydreaming about warmer weather. And while no amount of wishing or hoping will bring spring any sooner, there are a few steps you can take to get into a sunny state of mind. First things first: Make some key updates to your makeup shelf and fake a summer glow with the NYX Born To Glow Illuminating Powder —you'll look like you just got back from somewhere super warm, despite spending significantly less than a plane ticket.
Drugstore makeup brand NYX recently dropped some new Spring 2019 products, and a single glance at them shows that the brand's got glow majorly on the mind. The affordable fresh arrivals, which range from $9 to $20, are all focused on bringing a boost of brightness and bold color to your beauty routine — so basically, they're exactly what you need to get into the swing of spring.
Because you're likely feeling less than bronzed thanks to winter's lack of sun, NYX's new Born To Glow Illuminating Powder should be high on your list to try. The $15 loose powder uses light-reflecting pigments to create a luminous shimmer on your skin. Apply from head to toe so you have that glowy, fresh-from-vacay look.
The powder comes in four lit-from-within shades, including a rose champagne hue and a deep bronze shade, which easily sweep on with a highlighter brush for instant intense glow. The other two colors, the golden brown and the copper shade, are currently sold out on the brand's site (though they're still available at Ulta), so it seems like this new launch is already proving to be popular.
Also among the new arrivals are the Glitter Goals Liquid Lipsticks, a range of nine transformative shades that swipe on metallic but morph to a glittery finish. Each $9 color easily changes from metallic to glitzy with the smack of your lips — simply swipe the liquid formula on, wait for it to set, then press your lips together for instant glitter gratification. Shimmy, a coral red shade, or Reflector, a hot pink hue, are both perfectly suited for warm spring nights.
And it doesn't get more tropical than NYX's newest eyeshadow palettes, fittingly named for warmer weather. The Off Tropic Shadow Palettes, $20, are two sets of ten super pigmented shades with intense color payoff — ideal for creating bold, smoldering looks for spring and summer. Hasta La Vista is a collection of bright, island inspired shades like hot pink and cobalt blue, and Shifting Sand provides ten rich, warm neutrals in shimmery, metallic, and satin finishes. Try using the bold colors to line your lids for a subtly dramatic look.
Below, see and shop the new arrivals from NYX that'll have you looking warmer in no time — now if only the weather would follow suit.