Glow Recipe's New Launch Makes It Possible To Take Its Cult-Favorite Sleeping Mask On The Go
Courtesy of Glow Recipe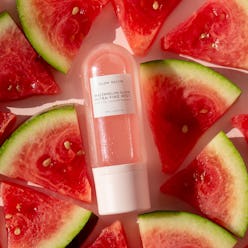 It can be genuinely difficult to resist bringing your favorite overnight face mask with you anywhere you go. Not talking about stowing it in your luggage before a trip, either — when you're in love with how a mask can transform your skin while you sleep, it can be tempting to wear it on your lunch break, or during your commute. Fortunately, you don't need to smuggle Glow Recipe's cult-favorite Watermelon Glow Sleeping Mask around town in your purse anymore. The Glow Recipe Watermelon Glow Ultra-Fine Mist launched Feb. 26, and it's basically the on-the-go version of the wildly popular K-beauty product.
Retailing at $28 per 75-milliliter bottle, the Watermelon Glow mist is a part of the K-beauty "fog mist" trend, or 안개 (ahn-gae) mists. "In Korean, 'fog' is a beautiful word. It's called 'ahn gae', which also has a dual meaning of baby's breath flowers," Sarah Lee, co-founder and co-CEO of Glow Recipe, explained over email. "It feels like you're walking into a fog of hydration. We're really seeing the mist category revamped with these new generation of fog mists."
"The great thing about a fog mist is that they do all the heavy lifting of a regular mist but in this ultra-fine spray that envelops you," Christine Chang, co-founder and co-CEO of Glow Recipe, added. So what happens when you combine a cult-favorite like the Watermelon Glow Sleeping Mask with the fog mist trend? Convenient, easy-to-use hydration you can take anywhere you go.
The Watermelon Glow mist doesn't just hydrate, either. It can soften and smooth skin, and even be used as a makeup setting spray. The versatility comes from many of the same key ingredients found in the sleeping mask. First up, of course, is watermelon: The fruit is full of antioxidants and vitamins your skin craves. The bi-phase mask includes a moisturizing mix of watermelon seed oil, rice germ oil, and pumpkin seed oil, which requires a quick shake to blend before spritzing.
Both the mist and mask are also formulated with hyaluronic acid (an ingredient famous for retaining 1000 times its weight in water) and a type of skin-buffing alpha hydroxy acid (also known as AHA). Though if you are using the mist out and about, bring a sunscreen, too — AHAs can make your skin more sensitive to the sun.
"Our Watermelon Ultra-Fine Mist disperses a mist so fine, that it doesn't interrupt any makeup steps, which makes it the perfect mist to refresh and hydrate skin throughout the day," Chang said.
"Nowadays everyone realizes that skincare and makeup go hand-in-hand," David Razzano, Sephora Beauty Director, said over email. "They're not two separate worlds anymore — if you really want great makeup, you really need great skincare. As an artist, one of the things I'm constantly reaching for is a hydrating mist. It's really the perfect kit essential."
Ahead, a quick link to your own personal bottle of the Watermelon Glow mist. And for the Sephora fans curious as to when the mist will arrive there: The mist drops on Sephora's website March 5 and in stores nationwide March 8.