Norma Kamali Just Launched Skincare — & It's Just As Iconic As Her Clothing
Skinline by Normalife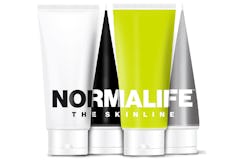 For more than 50 prolific years, fashion designer Norma Kamali has kept bodies covered in luxury athleisure, sporty swimwear, and (iconic) sleeping bag coats. Now, she wants to help you uncover a little bit. Specifically, uncover your skin. Norma Kamali's new skincare line, Skinline by Normalife, is "not a beauty line," Kamali tells The Zoe Report, but a "true no-makeup concept" designed to give you a healthy, natural glow in four clean and simple steps — the kind of glow you wouldn't dream of hiding beneath foundation or concealer.
In case the clean ingredients and makeup-free ethos didn't tip you off, this isn't your typical celebrity-backed beauty brand. Skinline by Normalife is based on 25 years of Kamali's own experience experimenting with skincare, after she noticed her complexion could use some love around age 50 (she's 74 now). Her process of trial-and-error led to the creation of Normalife, the lifestyle brand under which Skinline resides, and its four initial products: Clean, a "soap-free" cleanser; Smooth, an exfoliator; Soft, an everyday moisturizer; and Glow, a color enhancer that "gradually develops over time to give a healthy, just-worked-out finish," Kamali says.
"They are simple, easy to use, multi-use products that can be used for the face and body," she says. "They're all completely inclusive and can be used for men and women of all ages, all skin colors, and skin types." Inclusivity is arguably Skinlife's most foundational pillar: Kamali doesn't believe skincare should be gendered; she doesn't believe it should be unattainably expensive, either (her products range from $30 to $50). She doesn't even believe skincare belongs to the beauty industry. "Skincare is personal care," Kamali tells TZR. "It's for men and women." And, of course, everyone in between.
The bold, graphic packaging reflects this core value — the black, white, grey, and neon green tubes will be at home on anyone's bathroom shelf — as does brand's focus on simplicity. Kamali isn't encouraging 10-step routines here, and she doesn't want to add anything unnecessary to your life. The Normalife site sums it up in a single tagline: "Work out, make love, live life without worrying about how your skin looks in any light without filters." In other words, this is skincare to help you stop worrying about your skin so damn much.
As for what's in these clean, simple, glow-giving products? Well, a lot of olive oil, which Kamali refers to as her "core love." The ingredient is the star of Soft, and exfoliating olive seed powder powers Smooth; while Clean relies on a mixture of charcoal and aloe vera juice. Glow, the most mysterious offering in the lineup — I mean, how does it deliver that post-workout flush? — features a blend of cocoa seed butter, shea butter, and caramel. All four are free from parabens, phthalates, lead, formaldehyde, BHA, BHT, triclosan, artificial colors and fragrance, and petrochemicals. And the packaging is reusable and recyclable.
Another thing that makes Kamali's foray into beauty unique is the fact that she actually uses each and every product in the line (and almost nothing else). "In the morning, I shower and wash with Clean by massaging the product all over my skin, then towel-dry and massage Soft generously to my whole body and face," she says. "At night, I use a damp washcloth and apply Soft to remove my eye makeup and clean my face" — yup, this moisturizer is a multitasker — "then I use Smooth to exfoliate." She only uses Smooth every other night, and applies Glow when she's going out sans-makeup, which is often. The routine is simple but, well, she looks like that at 74. Kamali is clearly onto something.
If you find yourself wishing the designer could swoop in and streamline every area of your life like this, you're in luck: Skinline is just the first release from Normalife. The brand believes in "three pillars of a healthy lifestyle" — Sleep, Diet, and Exercise — and plans on rolling out launches in each category in the coming months. "After skin, I am moving into scent for calming, meditation, and sleep," Kamali tells The Zoe Report. The ultimate goal? To share her full health-conscious philosophy with the world, so that everyone can feel (and look) as good as she does. As she says, "My routines and products are timeless and easy to use — and work."
Shop Skinline by Normalife