I Washed My Face With Olive Oil For 2 Weeks—Here's What Happened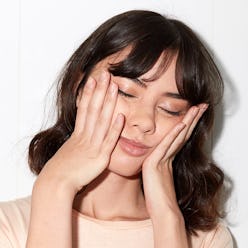 There aren't a lot of well-kept Hollywood beauty secrets left in the world, which is why I immediately turned on my iPhone recorder when I was on a visit to Dr. Harold Lancer's in Beverly Hills and on-staff facialist Ram-Prakash Khalsa told me about her signature face wash technique. It involves oil from the grocery store and stacks of white microfiber towels. She recommends (well, practically insists) the practice to all of her clients, many of whom are red-carpet regulars. Though she won't disclose any names herself, her Instagram showsher with Joan Smalls, to put it into perspective. (Plus, Lancer's office is arguably the most star-studded in the country, with publicly disclosed fans that include Gillian Jacobs, Chloë Grace Moretz, Kim Kardashian, and Margot Robbie. So one can surmise as to the complexions Khalsa might tend to.) Needless to say, we'll take the advice.
"It will give you a deep clean and really clean out the pores," says RPK, her nickname among those who see her. The oil cleanse is done at the end of the day, before using any face wash. The technique goes like this:
1. With dry hands, take anywhere from a nickel to a quarter size of oil (olive, grape, and almond are a few common choices), and rub it into your skin like a normal cleanser, circling the face for a few seconds.
2. Wet a white microfiber cloth under warm water, wring it out a bit, hold it against your face, then wipe everything off.
3. Repeat. Apply more oil and use a fresh towel every time, until you no longer see traces of makeup on the towel. "After an event my actors sometimes have to do it 10-20 times," says RPK. "If it's spray makeup, it could be 40 times." (Yes, they use a fresh towel every time.)
4. Finish with a regular cleanser. Preferably the Lancer The Method: Polish and Cleanser.
For the full effects of washing your face with olive oil, check out the original article on the Coveteur.