"Waterless Manicures" Might Sound Weird, But They're Saving The Planet
Varnish Lane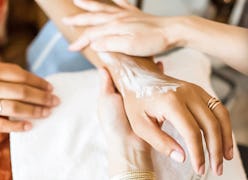 You carry your groceries in a reusable tote, you've traded in plastic straws for stainless steel alternatives, and you support sustainable clothing brands when you can… but your weekly mani-pedi could probably use an eco-friendly upgrade. Enter no-water manicures, the next big thing in eco-beauty. Besides being better for the environment — one service can save up to 15 gallons of water — dry manicures and pedicures are also better for your health. And your nails. And your polish.
A waterless manicure is exactly what it sounds like: a mani minus the water. "It differs from a typical manicure in that you don't soak your hands at any point during the service," Lauren Dunne, the co-founder of Varnish Lane, the first nail salon to offer a full menu of dry services, tells The Zoe Report. "We have seen firsthand how much better going waterless is for your health, your nails, and the planet."
Let's start with health, since that's kind of a big one. "We did a lot of research and found first and foremost, waterless services are best because of the cleanliness factor," Rachel Apfel Glass, the founder of Glosslab in New York City, tells TZR. "Water is the primary carrying [agent] for bacteria and germs, so waterless manicures and pedicures are much more sterile." She explains that though the whirlpools and bowls at your go-to salon may be meticulously cleaned, residual bacteria is often left behind. "I always say, even if you don't come to Glosslab, don't use water!" she laughs.
"Water can also change the shape of the nail, allowing more room for fungus and germs to cause an infection," Glass adds. This is because nails are porous, and they swell and expand (kind of like a sponge) when soaked in water. "Then, when they dry, the nails shrink back to their regular size, which can cause the polish to chip prematurely," Dunne says. Additionally, polish doesn't adhere as well to wet nails as it does to dry nails. All of this adds up to a short-lived mani-pedi.
As if that's not enough of an argument for the no-soak method, waterless services save hundreds of gallons of water per day, per salon. "One of the key benefits of getting a waterless manicure is reducing our water footprint on the environment," Dunne says. Varnish Lane, which just opened its third location in Washington, D.C., takes this eco-friendly ethos to the next level. "We have a special recycling program for old nail polish bottles, and we switched to a plant-based polish remover free from petroleum," she tells TZR.
In practice, a waterless manicure or pedicure doesn't feel that different than a standard service. Cuticle remover or cuticle oil acts as a stand-in for water when it comes to softening the skin around the nail, and from there, the basic premise is the same: There's clipping, filing, cuticle snipping, scrubbing, sloughing, moisturizing, and polishing — AKA, all the luxuries of a regular treatment with none of the water waste (or risk of infection). "Our customers who are doubtful do the pedicure and then say, 'Oh, I didn't really notice a difference,'" Glass says.
If you're intrigued by the thought of going water-free, you're in luck — no-soak salons are popping up across the country. New Yorkers can head to Glosslab or M Salon; those in the D.C. area have three Varnish Lane locations to choose from; and Angelenos can book an appointment at Can Can Parleur or the Maalou salon. Can't find a waterless outpost in your area? Not a problem — you can ask any salon to skip the soak and get the same effect.
As far as DIYing at home, all you have to do is slather your cuticles in lotion or oil to prep for clipping, then go about your mani as usual. Before you break out the polish brush, give your nails a once-over with remover to get rid of excess oil.
"Not only are we conserving water, but our clients have noticed a difference in both the quality and longevity of their manicures," Dunne says. I'd call that a waterless win-win-win.