If You're Too Lazy To Get A Manicure, You'll Love This Trend
Kris Connor/Getty Images Entertainment/Getty Images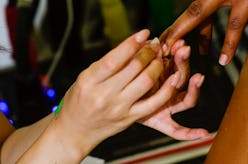 Just about everyone knows the agony of chipping your brand new, just-left-the-salon manicure. Try as you might, but it's almost impossible to replicate the same shiny results as you get in the chair.
But Jin Soon Choi, the mastermind behind her eponymous nail polish brand, is tipping the concept of perfection on its head — and we couldn't be happier about it. At Tibi's Spring/Summer 2019 show Sept. 9, designer Amy Smilovic showed a lineup of classic staples in saccharine colorways — with just a bit of quirk: She paired slightly oversized pantsuits with flip flops and asymmetrical poplin shirts with tailored trousers — both fun but unfussy details you couldn't miss if you tried. But there was one subtly that could've easily went unnoticed: Choi gave the models purposely-chipped manicures to match the collection's chill, laidback vibe.
"They're fun nails," Choi tells The Zoe Report backstage. "Very playful" with an "air of nostalgia." They also have a story behind them, which is just as relatable as the spirit of Tibi's latest collection. "Amy told me that she really wanted chipped nails back in 2010," Choi recalls. "So she went to the nail salon and they were like 'Huh, are you kidding me?' She was annoyed by their comments, but insisted and got them. She got so many compliments, too. The story brought a special moment to the show."
So armed with that sweet anecdote and a whole lot of polish, Choi chose a color scheme and patterns that reflected that care-free vibe. In your daily life and wardrobe, your clothes make you feel something, she says. They have a personal story. The nails, Choi adds, evoke those same kinds of memories — chipped polish is a sign that you're living life.
There's no way you'll be hiding these nails, though — especially with the glittery accent nail and loads of shine. A gleaming top coat is key, Choi notes, as it "seals and [helps the nails] look fresh, like a painting. If you don't put a top coat on, it [can] look ragged. When you put a top coat, it looks artistic." To create the illusion of incongruity, Choi used a series of long and short strokes, as well as a little bit of dabbing. "On some, we painted the middle of the nails and go towards the end," she says. "Then, we file the polish off at bottom. And especially the tip area." If it sounds a little like paint-by-numbers, that's because it is.
At the show, Tibi used JINsoon Charme (a yellow green), Idyll (a terracotta red), Keppel (a pastel green with hints of turquoise), Absolute Glitz (holographic silver) and of course, the Top Gloss Quick Dry Top Coat. The true beauty about this mani is that any color works — and you never have to worry about your palettes clashing. Plus, your natural nail color will peek through.
But what happens when your chipped mani gets chipped? I asked the pro, for selfish reasons — some of us can't keep any manicure for more than three days — "We love that!" she laughs. "When your chipped nails get chipped, just do a top coat over the old ones." Now, if only there was a simple way to revamp a six day-old twist-out, too...