Morgan Taylor's New Winter Collection Is Versatile Enough To Cover Every Base This Season
Morgan Taylor/Instagram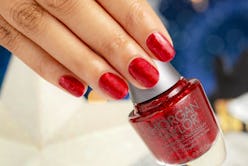 From essie's festive array of sparkly holiday shades to ORLY's drop of cool Arctic-inspired colors, it's been a pretty diverse period for nail lacquers. But despite the variety between brands, there hasn't been one to give you nearly every nail shade you could imagine wanting this season in a single drop — until Morgan Taylor's Champagne & Moonbeams nail polish collection, that is. If all the other nail polish launches this season have felt a bit too focused for your tastes, then this is the one to shop.
Sure, there's nothing wrong with snagging one polish here and another there until you've curated your seasonal collection, but isn't it nice when a brand makes shopping easy on you by giving you a bit of everything? And it's no surprise that Morgan Taylor is the one to do it this season, considering its past collections (like this Marilyn Monroe-inspired line) stay true to an overarching theme without striking a single note.
The 12-shade Champagne & Moonbeams collection, now available at beauty retailers like SallyBeauty.com and Ulta, leans into variety once again — without losing touch with the idea that this season in particular is about all things celebratory and bright.
Holiday cheer is sure to be found in shades like rich ruby red See You In My Dreams and glitter-packed shades like Sprinkle of Twinkle and Walking on Stardust. Plus, fans of metallics during the festive season can grab shimmery Copper Dreams, Gilded in Gold, or an unexpected shade of yummy pearlescent chocolate brown, Shooting Star.
But if you prefer a more neutral polish, Morgan Taylor's versatile collection takes a turn from the obvious winter or holiday hues with creamy shades like soft pink Dancing & Romancing, subtle nude Tell Her She's Stellar, and soft gray Let There Be Moonlight. They're sleek and sophisticated options for when you'd rather your party outfit take center stage, without having a completely naked nail.
Whatever your winter manicure shade of choice, there's a good chance Morgan Taylor's Champagne & Moonbeams collection has something for you. Shop all 12 shades below.