Morgan Taylor's New Nail Polish Collection Is An Unexpected (& Seriously Cool) Approach To Metallics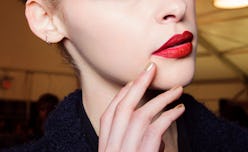 Stuck in a nail polish rut? It's easy to fall into the habit of grabbing the same color every time you sit down to paint your nails. But, all is not lost — you just need to snag a fresh shade that'll get you excited to give it a swipe. With that in mind, Morgan Taylor's Platinum Illusions nail polish collection may hold the new cool hue you've been looking for. The nail polish company is serving up some seriously sleek metallic shades that'll take you from warm summer nights to breezy fall days.
The new collection from Morgan Taylor consists of six luxe duo-chrome metallic lacquers, that, though eye-catching, still maintain an elevated feel. Currently, three shades from the reflective range are available for purchase at Ulta for $11.99 a bottle. But though the beauty destination's selection consists of only a few different hues, they all shift their color depending on the light — so, it's basically like you're getting a few different hues on your nail without having to do any complicated layering techniques or time-consuming nail art.
Up first is "Oh So Shifty!" — a shimmering green shade that'll work just as well with your beach attire as it will with your camel-colored fall sweaters. However, you could also opt for the versatile bronze hue appropriately named "Morph With Me." Rounding out the group is a warm amber shade titled "Vanished Before My Eyes." This color will bring a pop to an all-white ensemble now, and it'll add that bit of contrast you're looking for when you slip into jewel-toned outfits in a month or so.
To get the most out of your polish, Ulta recommends first applying a base coat, $9.50, followed by two thin coats of the color of your choice. Finish off your at-home mani or pedi with a Morgan Taylor top coat for $9.50, and voilà, you're good to go.
Continue on to shop the three luxe colors available at Ulta below, and then head over to the Morgan Taylor website to see the rest of the standout shades from the new collection.