Morgan Taylor Created A Marilyn Monroe-Inspired Nail Collection & It's Every Bit As Elegant As You'd Expect
IMAXTREE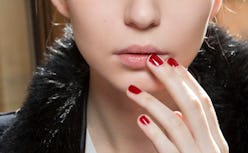 After a footloose and fancy free summer, you can think of fall as a return to your roots. But don't mistake that to mean you've got to get back to basics, especially when it comes to your manicure. In fact, it's the perfect season to embrace a glamorous edge, since rich finishes are the perfect complement to the earthy, grounded aesthetic of autumn. And that's where Morgan Taylor's Forever Marilyn nail polish collection comes in with six ultra-glam Marilyn Monroe-inspired polish hues that are as chic as the fashion icon and Hollywood legend herself. Timeless nails that'll take you through fall, right this way.
When you think of Hollywood stars that embody the very essence of unapologetic glamour, Marilyn Monroe no doubt comes to mind. Her timeless beauty inspires red carpet starlets and small town beauty buffs alike to this very day — so it's no surprise that salon-loved pro nail brand Morgan Taylor's latest collection looks to her often-imitated style for its fresh Fall 2019 collection.
"There is no fashion or beauty icon that is more well-known than Marilyn Monroe," Morgan Taylor CEO and Founder Danny Haile said in an official statement. "We are thrilled that we have the opportunity to release a brand new collection with six shades all inspired by Marilyn. Her timeless glamour and unapologetic attitude fit well with the energy of Morgan Taylor."
The Forever Marilyn limited-edition collection, now available at beauty retailers like Sally Beauty and Ulta, includes six all-new polishes in shades so elegant that even Monroe herself might've fallen head over heels. Choose from glamorous tried-and-true hues like Classic Red Lips, a creamy true red, All American Beauty, a sheer shell-nude, and Some Girls Prefer Pearls, a subtly pearlescent white. The long-lasting colors will go with anything in your fall wardrobe, while bringing an extra ounce of elegance.
Or, go for a manicure that's more unexpected and statement-making (much like Monroe's personal style), by opting for one of the other three colors from Morgan Taylor's new collection. That's So Monroe is a cool-toned brown with plenty of shimmer for a more striking take on fall's earthy hues, while A Girl And Her Curls and Flirty And Fabulous bring on the bold jewel tones with a sparkling eggplant and rich teal shade, respectively. Whatever you choose, you're guaranteed nails that are instantly iconic.
Scroll below to see and shop all six shades from Morgan Taylor's Monroe-inspired launch, below.