Michelle Obama Traded Out Her Engagement Ring For A Chic New Upgrade
Jonathan Bachman/Getty Images News/Getty Images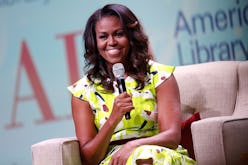 It was a small, subtle change — so small that you probably missed it. But as it turns out, Michelle Obama's engagement ring got a major upgrade in 2017. That means the sparkler on the former First Lady's finger this very moment isn't the original one Barack Obama gave her when he proposed back in 1991. And though very few details have been revealed about her glitzy new bauble, one thing's for certain: it's a major change from the original, and a chic one at that.
Prior to Jan. 7, 2017, Obama donned a simple, one-carat solitaire diamond set in yellow gold and a matching gold wedding band. It was a classic, timeless piece that accented her iconic wardrobe throughout her time in the White House. She was nicknamed the First Lady of Style, after all.
It appears that Obama started wearing her new engagement ring — a square-cut diamond set atop a thick pavé band — about a year ago. She was first photographed wearing the eye-catching accessory in late 2017, and most recently, during an Oct. 11, 2018 appearance on Today. As for the timing of her new ring? Obama may have a touching reason behind the upgrade.
If you follow the Obama's closely, you'll know Oct. is a special month for the power duo. The couple celebrated 25 years of marriage on Oct. 3, 2017, so it's possible that the sparkler aligned with their anniversary. Considering 25 years is known as the silver anniversary, a monumental gift isn't uncommon (hence the major engagement ring upgrade that followed several weeks after).
Since Oct. of last year, Obama has rarely been spotted without the dazzling, square-cut diamond ring. And while it's certainly a change from the more timeless, classic one she donned up until Jan. 2017, it's sure to inspire brides-to-be who are looking for a piece with that sought-after sparkle.
Ahead, The Zoe Report rounded up four dazzling engagement rings, all of which are inspired by Obama's new sparkler. Shop them all, below.
Shop The Look