Why Sarah Jessica Parker's Engagement Ring Style Is So Popular, According To An Expert
Mark Sagliocco/Getty Images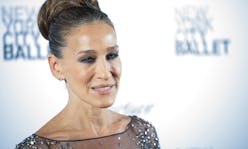 In the hit series Sex and the City, Sarah Jessica Parker's character, the iconic Carrie Bradshaw, received not one but two diamond rings — one from Aidan and another from Mr. Big, the former of which was an asscher-cut diamond and the latter a unique black-diamond ring. Though both of those on-screen sparklers were remarkably stunning, it's Sarah Jessica Parker's engagement ring from real-life husband Matthew Broderick that nabs the top spot as the most beautiful bauble. It's so elegant that once you lay eyes on it, you'll no doubt be inspired to copy it.
Though SJP's ring has been on her finger for over two decades, it still feels as relevant as ever today — and it's been a consistent accessory throughout the actor's changing style over the years. According to Kathryn Money, vice president of strategy and merchandising at Brilliant Earth, Parker's ring features an estimated 7-8 carat elongated cushion-cut diamond atop a yellow-gold setting.
"The setting's double band adds a subtly unique element to this show-stopping ring," she tells The Zoe Report via email. Depending on the quality and characteristics of the center diamond, Money estimates SJP's ring to be worth $400,000 to $600,000.
Money points out that there's a reason why Parker's ring style is so popular. "Emerald and elongated cushion-cut diamonds create a timeless and flattering look, as their shape lengthens the wearer's finger," she explains.
The traditionally cut diamond isn't the only facet of Parker's ring that continues to rise in popularity — Money says yellow-gold bands are making a definite comeback. "Yellow gold grew over three times faster compared to white gold in the first half of 2018," she adds. "Perhaps fueling this trend is Meghan Markle's famous yellow gold engagement ring, which she received from Prince Harry in late 2017."
SJP and Broderick started dating in the '90s, officially tying the knot five years later, on May 19, 1997, in what has been described as a small, private ceremony attended by 100 unassuming guests — unassuming because the attendees thought they were there for a party rather than a wedding.
The actor walked down the aisle in what is known today as one of the most iconic wedding dresses, largely in part because it was such an untraditional pick. Rather than donning a classic white gown, SJP opted for a black Morgane Le Fay dress that she bought off the rack. But although it was such a memorable bridal look, it's actually one decision SJP regrets about her special day.
In an interview with Marie Claire back in 2006, the actor opened up why she chose black instead of white and how she really feels about it today. "I was too embarrassed to get married in white, and both Matthew and I were reluctant to have people pay so much attention to us," she said. "Which is ridiculous, because that's when you can relish the attention, when it's natural. We treated it like it was a big party on a Mon. night, and I regret it."
Regardless of SJP's regrets, one thing's for certain: both her unconventional wedding dress and classic engagement ring have become a source of consistent inspiration for the modern bride. Ahead, shop The Zoe Report's roundup of sure-to-dazzle engagement rings inspired by Parker's.
Shop The Look