Michelle Obama's Pretty Pink Dress Is Flattering On Every Body Type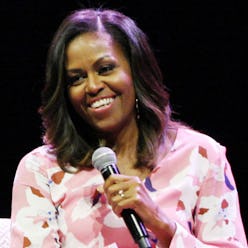 Michelle Obama has been nothing short of inspirational over the past eight years. From her heroic speech at the 2016 Democratic National Convention to her valiant championing of gender equality and female empowerment to her love story with President Obama, the former First Lady is the epitome of goals. While her political endeavors are hugely important, we're also big fans of her expertise in another area: her wardrobe, of course. From her iconic Inaugural Ball gowns (both by Jason Wu) to her penchant for modern looks from up-and-coming designers, her masterful approach to style is second to none. And while we miss seeing her on the daily, we know she'll continue to top our best-dressed lists for years to come.
Her most recent look is a case in point—a whimsical floral-print midi-length frock by Tanya Taylor that's ideal for any body type. The V-neckline and cinched waist are figure-flattering while the long sleeves are ideal for those who are conscious of their arms. Here, see (and shop!) the versatile dress, plus peruse our favorite fashion moments from one of the most incredible First Ladies of all time.
In A Tanya Taylor Dress With Simone Rocha Earrings And Jimmy Choo Heels
At the Women's Foundation of Colorado's TogetHER conference, 2017
With An Alexander Wang Tote
In New York City, 2017
Shop Mrs. Obama's Alexander Wang bag here.
In Narciso Rodriguez
January 6, 2017
In Gucci
December 4, 2016
In A Black Turtleneck And Beaded Dress
December 1, 2016
In Narciso Rodriguez
November 7, 2016
In Atelier Versace
October 18, 2016
In A Blue Dress
September 28, 2016
In Self-Portrait
September 19, 2016
In Naeem Khan
September 17, 2016
In Brandon Maxwell
August 2, 2016
In Preen
July 1, 2016
In Proenza Schouler
June 28, 2016
In Hugo Boss
June 14, 2016
In Narciso Rodriguez
April 22, 2016
In Narciso Rodriguez
March 23, 2016
In 3.1 Phillip Lim
March 16, 2016
In Jason Wu
March 10, 2016
In Narciso Rodriguez
January 12, 2016
In Vera Wang
September 25, 2015
In Missoni
June 18, 2015
In Duro Olowu
June 17, 2015
In Mary Katrantzou
June 16, 2015
In Thakoon
April 30, 2015
In Zac Posen
March 28, 2015
In Roksanda
March 22, 2015
In A Floral Dress
January 26, 2015
In A Black And Gold Metallic Dress
December 14, 2014
In Bibhu Mohapatra
September 27, 2014
In Duro Olowu
August 27, 2013
In Jason Wu
January 21, 2013
In Thom Browne
January 21, 2013
In Barbara Tfank
May 2011
In Tom Ford
The Obama's dine at the Buckingham Palace in May 2011
In Jason Wu
January 20, 2009
In Jason Wu
2009