The One Thing You Never Noticed About Meghan Markle's Wedding Dress
WPA Pool/Getty Images Entertainment/Getty Images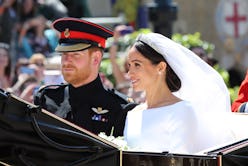 If you didn't already consider Prince Harry and Meghan Markle as one of the sweetest celebrity couples, the latest glimpse into their relationship is about to sway you. Arguably the most relatable royal, the Duchess of Sussex recently revealed a secret — and romantic — detail about her iconic wedding day look. In an upcoming documentary about the Queen's life, a short segment highlights the special nod to Prince Harry in Meghan Markle's wedding dress.
In Queen Of The World, Markle is reunited with her wedding dress during a brief guest appearance. In the short clip, Markle explains that she played homage to the tradition of something new, borrowed, and blue on her wedding day by having a special piece of fabric sewn into the inside of her gown.
Markle, who hadn't seen the dress since her wedding day, was reunited with the Givenchy gown in Buckingham Palace. "Did you see it?" Markle is heard saying in a video clip of the film released by ITV. "[There's] a piece of blue fabric that's stitched inside. It was my something blue. It's fabric from the dress that I wore on our first date."
Once again, Markle proves just how down-to-earth she really is. Even in a priceless, custom Givenchy gown, she still managed to sneak in a meaningful memory from the beginning of her relationship.
It comes as little surprise that the Duchess of Sussex opted for a blue dress on their first date, as the color seems to be a core component of Markle's closet. In recent months, she's been photographed wearing many shades of blue at various royal events and appearances.
Just last week, Markle attended the launch of her latest charity venture, a cookbook. She added a pop of color to her simple black dress in the form of a blue, wool trench coat by Smythe. And in early Sept., Markle wore a chic, ruffled blue midi dress by Jason Wu to the 100 Days To Peace Gala Concert in London. The Duchess of Sussex paired the stylish piece with complimentary blue sling backs by Aquazzura, which featured dazzling, jeweled straps.
The Duchess even experiments with denim looks while remaining true to her trusty royal color palette. Over the summer, Markle wore a Carolina Hererra denim, belted midi dress to the Sentebale Polo Cup with Prince Harry. She paired the luxury item with an ultra affordable twist — a clutch from J.Crew.
Although you may have thought the royal wedding was a thing of the past (considering you have a new royal union to look forward to next month), the sweet, yet totally understated nod to Prince Harry was arguably worth the wait.
Queen Of The World, which centers on the Queen's role as head of the Commonwealth and her plans to bestow her thoughts and knowledge on the next generation of royals, will premiere on HBO on Oct. 1. Be sure to tune in for a closer look at Queen Elizabeth's life, as well as the full interview with Markle.