Meghan Markle Added The Perfect Black Dress To Her Maternity Lineup
Jack Taylor/Getty Images Entertainment/Getty Images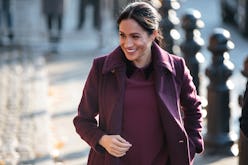 The next royal baby is getting bigger by the day. The duchess has kept out of the spotlight for a couple of weeks, but her bump has grown even since her last outing on Christmas Day. Lucky for her and all moms-to-be, pregnancy can be a fashion statement with Meghan Markle's black maternity dress.
On Thurs., immediately after Kensington Palace announced the royal's four patronages, Markle made a surprise visit to one. She turned up unexpectedly to Smart Works, a London agency that aims to help unemployed women return to the workforce, and now that she's just a few months out from her spring due date, the duchess is finally wearing maternity clothes.
She sported a form-fitting LBD by the maternity brand Hatch with a beige Oscar de la Renta coat. A bold pair of cow-print heels with PVC detail adorned her feet, and to top it off: suede gloves, a sleek square handbag, and earrings by Kimai.
It wasn't always easy finding stylish maternity clothes. Brands like Hatch have been a godsend for moms-to-be. Markle's dress is a short-sleeved bodycon midi that would look good with literally anything, especially a chunky cardigan or a long wool coat. The best news is that it's still in stock (but now that the royal is wearing it, probably not for long).
It's been fun to watch Meghan Markle's maternity style evolve. You've watched Kate Middleton dress her baby bump in colorful shift dresses and festive prints — polka dots, in particular — three times, but the former Suits actor's look is so different.
She has effortlessly maintained that sleek, sophisticated, and slightly edgy look that everyone loves. And she has picked her pieces wisely, because the Eliza Dress she just sported is specially designed with a two-way cotton viscose knit that will actually grow with her, so the likelihood is high that you'll see it again.
In a maternity style rut yourself? Ahead, Meghan Markle's LBD and other maternity dresses that you'll actually want to show off.
Shop Maternity Dresses