Meghan Markle's Go-To Dress Designer Now Has A Must-See Makeup Collection
Courtesy of MAC Cosmetics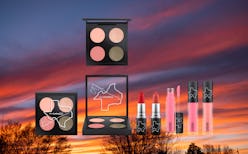 Brandon Maxwell's designs are the the epitome of glamour. Since the ready-to-wear label's inception in 2015, he's been making a name for himself on the fashion scene; Meghan Markle has worn his designs, as have Blake Lively and Joan Smalls, and his structural pieces can be seen on the red carpet every year. This year, though, he's decided to try his hand at something entirely new: the world of beauty. As of Sept. 8, MAC Cosmetics is launching a collaboration with Maxwell to give you a Texas-themed collection inspired by the designer's home state. And naturally, it's bringing some big ideas and high shine.
While many designers are gearing up to debut their new collections for fashion month, Maxwell decided to take it a step further and collaborate with MAC Cosmetics to launch a five-piece line-up, ranging from $18.50-$33, to launch in real-time of Maxwell's SS19 show. On top of that, the designer and the brand came together just 12 weeks before the collaboration was set to launch.
On the inspiration for the collection, Maxwell largely drew from his roots and his family to create a dreamy, shiny capsule that captures the Texan sunset. Each of the products takes its name from the designer's family and others who have inspired him, like the two shades of Lipglass named after his sisters — Kady's Kiss and Baby B. The collaboration also includes two special edition matte lipsticks in a bright red and pinky coral, and a four-color eyeshadow palette in desert-toned colors ranging from rose ivory to a sparkly olive green.
The collaboration with MAC Cosmetics isn't the only time Maxwell has drawn inspiration from his roots, though. "Surrounded by immaculately dressed women from a young age, Maxwell was captivated by the women who passed through the boutique where his grandmother worked in Longview, Texas," the designer's website reads. In fact, all of the clothing he creates is inspired by the strong women in his life, which explains the equally strong, structural garments he designs.
But though this collection may take inspiration from Maxwell's past, it's full of big trends now, too. Pink eyeshadow is having a moment in 2018, as is lip gloss — so while the names of each piece might feel dated, the products themselves aren't at all.
While Maxwell has focused solely on designing clothes in the past, his foray into makeup with this collaboration was a long time coming. "MAC has supported Maxwell since the beginning, sharing his passion for artistry and community empowerment," reads a press release from the brand. "The partnership started even before the launch of his eponymous label, when he styled for MAC photo shoots." He may be new to beauty, but it seems his entry into the category was inevitable.
Shop the collection now on MAC Cosmetics' website and in select US stores.