10 Nude Glosses That Will Change How You Feel About Nude Glosses
Khalea Underwood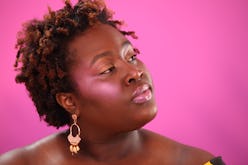 I'm a beauty editor and a lifelong lover of all aspects of the field. And by lifelong, I'm not exaggerating: all of my childhood holiday wish-lists included some sort of 72-piece kiddy makeup bag. While in my teens, I spent weekends examining every single perfume ad and glossy editorial in my favorite magazines, instead of reading Judy Blume novels. I always requested my mom drop me off at the cosmetics aisle at Wal-Mart, where I'd happily swatch foundations that were far too light for my complexion. And once I saved up enough allowance money, I'd return to that very store to cash out on the best Lip Smacker tubes that money could buy.
Obviously, I love beauty. I just don't have the heart — or patience — to do my makeup every. Single. Day. I can color correct, conceal, put on foundation, and do my highlight. I have my brow technique down pat, too, since bushy, brushed-up arches are still very much a thing. On most mornings, I would typically skip all of the above and go straight to my lipstick... the ultimate cheat code. (I'm very much a matte girl, and have always preferred the liquid variations as opposed to the traditional bullet.)
And with innovations like curved and angled applicators, applying a liquid lipstick should be simple. Operative word being "should." My hands are really shaky, so I always go outside of the line while putting my lip on. Lip brushes and angled Q-tips help, and a little bit of concealer can go a long way, but I'm just far too impatient to fiddle around with those tools, especially on a busy morning.
For a long time, lipstick pulled my look together when the rest of my makeup was meh. I'd always choose bright reds, purples, and pinks to light my face up, and found joy in testing out formulas to see if they'd last throughout my entire day.
I still perk up at the news of exciting new shades, but actually wearing them these days is a rarity — I've traded up for gloss. Nude glosses, to be exact. A few years ago, quality nude lip products for darker skin tones were few and far in between, generally because the industry didn't understand that flesh tones aren't one-size-fits-all.
There were times when I'd leave the cosmetics aisle near tears because I couldn't find a shade that matched. Now, thanks to brands like Pat McGrath and Mented Cosmetics, I'm included in the conversation — and get to shave off so much time from my morning routine. Read ahead to see the ones I haven't stopped wearing this summer (and will probably be bringing with me this fall, too).