4 Ways To Style Your Bob, As Demonstrated By Claire Foy
Chelsea Lauren/BEI/Shutterstock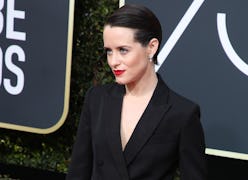 In recent years, a number of celebrities have traded in their long, loose locks for super-short cuts (think: refined, ear-grazing bobs and layered pixies). And while shorter hairstyles can seem slightly intimidating at first (and the styling options much more limited), you'd be surprised by how easy it is to switch up your look. The next time you're on the brink of making the chop — but need that final push to actually to do it — look towards Claire Foy for the ultimate inspiration. The actor is the perfect example of how to style a bob, and she proves time and time again just how versatile a short haircut can be.
Though long hair seems better suited during the cold-weather months, the seasonal switch is also a great time to refresh your look — hair length included. Foy first debuted her dramatic cut during the season two premiere of The Crown in London last Nov., and a year later, she's still sporting it, though she's changed up her styling approach more than a handful of times. The best part about short hair? Less time and less product is needed to make it look perfect.
You likely don't have a go-to hairstylist on hand to flatten every flyaway and tame frizz on contact, but when it comes to styling a bob or pixie, you'll quickly learn you don't need one. Ahead, four ways Foy has worn her haircut, along with the exact products you'll need to recreate each look yourself (spoiler: it's so easy).
Sleek & Side Parted
At the 2018 Emmy Awards, Foy walked the red carpet in a stunning white gown. But what really stole the show was her sleek and elegant side-parted pixie. The good news about this style? Only a few products are needed to emulate it, and though it's easy to do, it looks anything but basic.
First and foremost, comb your hair from the highest point of your left eyebrow's arch. Then, sweep your hair to the side, using a styling cream to set and smooth the strands on both sides of your part.
Combed Back
If the sleek and side-parted approach seems a bit too serious for you, then this Foy-approved style may be your calling card. On Nov. 4, the actor attended the New York screening of The Girl In The Spider's Web in a bright-red midi dress and a cool, combed-back bob.
To recreate the look, begin by forming a deep side part with your comb. Once it's set, brush back the hair at your crown to create your desired volume. Using a fine-tooth comb, smooth the top section back with a texturizing paste to give it some shape.
Braided
On Oct. 29, while attending a press conference in Berlin for The Girl In The Spider's Web, Foy switched up the look of her short bob. She kept her signature deep side part, but rather than smoothing and setting the front strands in place, she wore them in loose, casual braids. The overall feel is slightly more relaxed, and it's a perfect fall hairstyle you can recreate with minimal effort.
Accessorized
Foy is no stranger to hair accessories — the actor has a thing for headbands, clips, and pins when it comes to her red carpet looks. Make like Foy and dress up your bob this holiday season with a glitzy clip. Aside from looking so stylish and elegant, this look is actually super simple to achieve — if you're running out the door with bland-looking hair, clip in a shiny, sparkly barrette to instantly elevate your look. Best of all? It will keep your hair out of your face all night long.