Emma Stone Traded Her Signature Red Hair For A Dark New Hue
Frazer Harrison/Getty Images Entertainment/Getty Images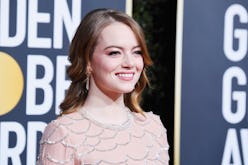 The drastic Hollywood hair changes just keep coming. First, it was Priyanka Chopra's blonde highlights that had Instagram buzzing over the weekend. Now, it's Emma Stone's dark brown hair that people can't stop talking about — and with good reason. On Sat., the actor traded her signature fiery red locks for a shocking, though very welcomed, new color.
On Jan. 19, The Favourite actor walked the red carpet of the 30th Annual Producers Guild Awards in a yellow, long-sleeve dress that was, in a word, show stopping. It featured eye-catching knot-detailing on the side and was perfectly simple and modern without feeling too basic. Though the dress was a definite red-carpet talking point, ultimately, it was Stone's dark tresses that stole the show.
The actor is best known for her fiery red locks — and a bright, bold personality to match. And though over the years, she has sported a handful of different hair colors, including a chocolatey-brown in 2009 and platinum blonde in 2011, she always ends up going back to her crimson roots, a shade she considers to be her personal favorite.
But that doesn't mean she's opposed to switching it up every now and then — and that's exactly what she did over the weekend. On Sat., the 30-year-old debuted her freshly dyed auburn hair, and though the darker look is reminiscent of the one she rocked at the Met Gala back in 2016, it's ever-so-slightly different because of the subtle tones of dark copper infused throughout.
Upon first glance, you'd think the actor chopped off her signature shoulder-length hair, as well. But after further inspection, it appears she's just wearing a super-tight updo, with a few face-framing pieces pulled out on one side.
Stone's drastic hair transformation follows that of a slew of other celebrities who have either opted for a chop (looking at you, Irina Shayk and Constance Wu) or tried out a new color. Just last week, Hailey Baldwin dyed her hair pink, a trend that both Khloé Kardashian and Julia Roberts experimented with. Lady Gaga even went blue for a while, but she's back to her platinum blonde roots for now.
Though a handful of celebrities have opted for lighter hues this season, Stone's dark hairstyle is a fresh, very welcomed change of pace for the New Year. Now, if you're ready to follow in the actor's footsteps and go for a darker dye, make sure you have a handful of color-preserving products on hand. Ahead, shop The Zoe Report's favorites that will keep you new color shiny and vibrant for months to come.
Shop The Look