What Viola Davis & Helen Mirren Are Still Learning About Beauty
Lawrence Busacca/Getty Images Entertainment/Getty Images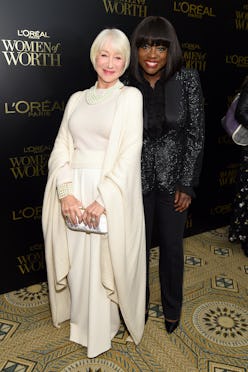 The L'Oréal Paris "Because You're Worth It" tagline has been around for over 40 years, but at the L'Oréal Paris Women of Worth 2019 in New York City, the brand's rolodex of celebrity spokeswomen proved how accurate the saying actually is. If you're unfamiliar, the award ceremony is "a philanthropic program that champions inspiring women who are making a difference in their communities across the country," according to a release from the brand. Each honoree receives $10,000 (with one winning an additional $25,000, through public vote) — and each guest walks away inspired by the tenacity of the exemplary leaders and the thoughtful, candid takeaways from the spokeswomen's speeches.
"I think all women are of great worth," actress Helen Mirren, who's worked with the brand since 2014, tells TZR on the Dec. 4 red carpet. "My mom, who lived in obscurity all her life brought up three children. That was a women of worth. But mostly, I think of the women who are on the front line in Syria or in Iraq tonight, making sure their family has water, is being fed, and just making sure life goes on. Tonight, we are appreciating women who have done enormous good for many communities, and it's fantastic to be able to recognize them. Those women are not recognized enough."
Viola Davis, who became an Age Perfect ambassador in September 2019, echoed similar sentiments. "I just love celebrating young women who I believe will be the future of this country and of this world," she tells TZR. "In terms of changing the world, sometimes you don't know who you are passing the baton on to — especially in this zeitgeist where we've become increasingly volatile. So it's great to see this force of love and service in one room all coming from feminine power."
Though both women have picked up plenty of beauty tips throughout the years — whether through personal experience, or in the chairs of their esteemed artists — their gigs as brand ambassadors continue to teach them lessons that fall outside of eyeshadow tricks or foundation application. For Davis, 54, she's learned that she is the palette — meaning, her natural beauty is enough, and makeup is just an enhancement. "And then when you start with sort of that canvas, everything else becomes a playground," she says.
Part of that journey also rests in the characters she's played — most notable Annalise Keating of How To Get Away With Murder. "She is furiously, unapologetically herself," Davis reflects. "Even when she has her wig off or no makeup on, she is just as sexual, just as strong, just as outspoken. When I see people who are just unapologetically themselves, it is the most beautiful thing you could possibly witness."
As for Mirren, 74, she's reflecting on the concept of beauty as a whole. "I've always had an issue with the word 'beauty' because, of course, it's the beauty industry — but it's why I love L'Oréal," says the actor. "The 'Because You're Worth It' mantra takes it far beyond [telling consumers to] buy new mascara." It's not what's on you, she notes — it's what you feel within yourself.
That's not to say that being a part of the brand doesn't have its perks. Aja Naomi King, who's been with the brand since 2017, says that she always has True Match Lumi Glotion Natural Glow Enhancer in her awards season clutch. "Regardless of how I'm feeling, I pop a little bit of that on and I'm ready to go," she says. "I can't help myself. I like to glow!"