Viola Davis Is L'Oréal Paris' New Spokesperson — & Just Revealed Her Favorite Beauty Products From The Brand
Courtesy of L'Oréal Paris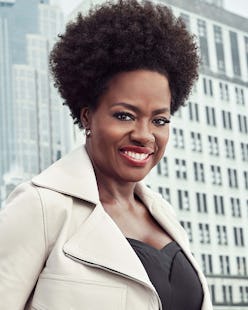 You may've noticed a not-so-small announcement if you scrolled through Instagram on your lunch break Sept. 10: Viola Davis is L'Oréal Paris' new spokesperson. Unveiled on the beauty brand's social media that day following a launch event Sept. 9, the actor and activist joins the likes of Celine Dion, Elle Fanning, and Eva Longoria, and will be seen in the Age Perfect line's upcoming TV, print, and digital campaigns later in Sept.
"I can remember hearing many of the women before me who represented the brand say 'Because I'm Worth It' in advertising and it always felt so powerful," said Viola Davis herself in an interview with the brand. "The fact that four words could carry so much weight was always so inspiring and to now say those words myself is truly incredible."
"We are thrilled to welcome Viola as a member of our family. Viola's tenacity, authenticity, and bold spirit resonate with and inspire so many people," explained L'Oréal Paris' Global Brand President, Delphine Viguier-Hovasse, in a press release. "She challenges the status quo in all aspects of life and her drive to succeed has proven itself time after time — she leads by example and is the perfect conduit to elevate our core message, 'Because I'm Worth It.'"
Davis herself also shed light on her background, and what led up to where she is now. "The fact that I didn't see immediate success in my career in the traditional sense forced me to develop a thick skin, and to rally my sense of self-worth time after time to keep auditioning, getting on stage, and honing my craft," she explained. "What I didn't realize until years later was that all of that time and effort compounded itself into this unwavering belief in myself and my own abilities and opinions that I now wouldn't trade for the world."
Another skill Davis has added to her repertoire? Doing her makeup — which she notes is very different than her red-carpet beauty routine. "I do like to do my own makeup, which is a skill I picked up by necessity in my theater days," she said. When she's not filming, the Academy Award-, Emmy Award-, and Tony Award-recipient keeps her look basic, with "small accents like a neutral lip and a touch of mascara to open up my eyes."
In honor of her debut, Davis shared a handful of her favorite L'Oréal Paris products, as well — and you can find out (and shop) what the celeb keeps in her rotation just by scrolling down.