Kristin Ess' New Categories Just Hit Shelves & They Might Be The Most Exciting Ones Yet
Courtesy of Kristin Ess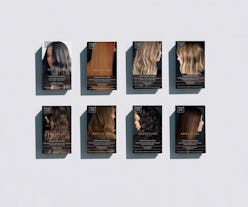 When stylist and haircare mogul Kristin Ess announced on Instagram she was adding two new lines to her eponymous brand — Kristin Ess hair gloss and styling accessories — fans wondered if she ever slept (and Lucy Hale asked her to send a hair gloss to Fiji). Whereas some brands may let new releases trickle onto shelves, Kristin Ess went ahead and dropped 18 new products at Target on Jan. 27. As you may have predicted, shoppers can't get to Target soon enough, and you may be tempted to go grab the new releases on your lunch break too after reading what they can do for your hair.
It's important to note for anyone unfamiliar with hair gloss that the products are not dyes: Each toning treatment simply refreshes your hair color and adds shine between hair appointments. The glosses retail for $14 per box, and are available in seven tones and one clear shade named Crystal Quartz.
"I've always wished there was a salon-equivalent gloss I could send home with my clients that would keep the tone and shine of their hair in check between color services," Kristin Ess tells TZR in an email. "I used to encourage people to come in and get glossed between services but I found that most clients just didn't have the time or often times, the money."
Ess didn't just craft the glosses with her clients' and fans' needs in mind — she also paid attention to creating a product that would complement work done by fellow colorists and stylists. "I knew I'd have to create something that was formulated for people who aren't colorists and something that would not be too permanent or too heavily pigmented because I don't want to interfere with a salon colorists' process," Ess says. "This is a safe way to keep your color shiny and vibrant in between salon visits."
Fans are particularly thrilled by the gloss Copper Penny. Though Ess is famous for the colors she creates for her celebrity clients, the stylist's own fiery red hair is iconic to her followers. Copper Penny boosts the pretty golden copper tones found in natural red hair — ideal for all redheads, dyed or not.
But the glosses are just eight of the 18 new releases. The brand also dropped the $12 Amethyst Temporary Tint (a nonpermanent lavender hair color spray similar to the Rose Gold Tint) and the Kristin Ess Accessories Collection, which includes four brushes, four styling accessories, and one comb.
"It was the next obvious move for me after tools," Ess tells TZR. "I had some specific things I wanted to do with brushes. I wanted to create a large paddle brush that was gentle on the hair, but durable enough to use for blowdrying. I wanted a scalp stimulating detangling brush for those, like me, who are tender-headed and I wanted it to be shiny and fun to look at. I wanted a round brush for bangs and shorter lengths that grabs the hair."
Releasing almost 20 new products in one day may seem like a lot — but the indulgence is nothing new for Kristin Ess fans. Since November, the brand has released hair styling tools, fan-requested fragrances, limited edition haircare sets, and affordable scalp treatments. So keep on scrolling to browse a few of the new new January releases from Kristin Ess, or, go browse the ever-growing catalog of Kristin Ess at Target.