Kora Organics Created An Ultra-Hydrating Bronzing Oil Just In Time For Summer
Kora Organics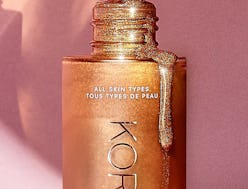 There's confidence, and then there's lit-from-within glowy skin confidence. Nothing makes you feel more comfortable in the skin you're in than when said skin is visibly healthy and happy, and giving off a fresh-from-the-tropics luminance. Luckily, you don't have to book a beach vacation to achieve the look and feel of sun-kissed skin. Just grab yourself a bottle of Kora Organics' Sun-Kissed Glow Body Oil — the just-dropped shimmering oil instantly adds a touch of bronzed color that'll have people asking you which Bahamian island you just got back from (and it's incredibly hydrating to boot).
It was only a matter of time before supermodel Miranda Kerr and Kora Organics, her line of good-for-you skincare and wellness products, introduced something that can make your body look as bronzed and gleaming as hers does after a seaside swimsuit shoot.
Now you can get the look instantly, with the brand's new Sun-Kissed Glow Body Oil, $58, a first-of-its-kind organic all-over skin oil that uses shimmery mineral pigments and natural oils to impart that perfect summer glow — no matter the time of year. And considering spring's arrival means you'll soon be sporting your share of skin-showing ensembles, the timing of its arrival couldn't be better.
The organic, cruelty-free, and vegan shimmer oil is formulated with deeply hydrating naturally-derived oils, including desert date, sunflower seed, and sea buckthorn, which soak into skin quickly and work together to repair and fortify your body's moisture barrier for a naturally luminous look. After all healthy skin is glowy skin, right?
Added to the luxe oil is a dose of mineral pigments, which provide an immediate bronze-y sun-kissed shimmer (that means no waiting for fake tan color to develop, and no need to sit out in the damaging sun). And don't worry if it looks like all the shimmer has settled to the bottom of your bottle between uses, because Kora Organics already thought about that.
Each bottle of body oil has its own rose quartz crystal ball inside, so simply give yours a shake before each use to be sure all that body-bronzing goodness is evenly distributed. Plus, since rose quartz is said to be an energizing and love-encouraging substance, you can think of each shake as adding good vibes into your self-care routine.
For optimal results, Kora Organics recommends applying the new body oil all over immediately after a bath or shower, so the hydrating oils have a chance to soak into skin while pores are open and in need of extra moisture. Kerr's pro tip: Rub into legs whenever you're wearing something that shows them off for an extra dose of color (and confidence).
Shop the shimmery, organic body oil below, and get ready to show off a little more skin this season.