Here's Exactly When You Can Buy Fenty Beauty's New Bronzer (& Why You Need It ASAP)
Courtesy of Fenty Beauty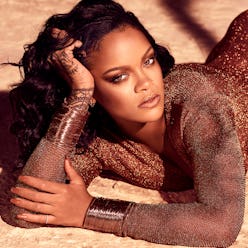 Few brands nail a summer glow quite like Fenty Beauty; if you're a beauty fan — or just happened to be on the internet that day — you probably remember where you were when the brand's iconic Body Lava dropped. And while Fenty Beauty brought back that cult-favorite formula for summer 2019, it also unveiled the all-new Fenty Beauty Sun Stalk'r Instant Warmth Bronzer, too — and gave fans two new bronzer brushes and highlighters. So if you see someone this summer with a glow that can't be tamed, you may as well ask which Fenty Beauty product they're wearing.
You have some time to prepare your wallet, too. The never-before-seen Fenty Beauty Sun Stalk'r bronzer, Killawatt highlighter shades, and bronzer brushes don't drop until April 5; you'll be able to get everything that day on FentyBeauty.com, Sephora.com, and at Sephora stores. The Sculpting Bronzer Brush will retail for $34, while the Cheek-Hugging Bronzer Brush — the "bigger sister" of Fenty Beauty's Cheek-Hugging Highlight Brush — will retail for $36. The bronzer will cost you $30, with eight shades to choose from.
And while that may sound like a small shade range for Fenty Beauty (home of the 50-shade foundation range), the brand promises the bronzer colors are versatile. The bronzer's product description even claims it works on "the fairest to the deepest" and includes a quote from Rihanna herself: "For every photoshoot, every girls' night out, every vacation — this bronzer will give your skin warmth and life like never before."
Besides Rihanna's official stamp of approval, basically all of the other swoon-worthy bronzer keywords are there: It's long lasting, easy to use, and has a glow Fenty Beauty describes online as both "post-vacay" and "sun-soaked". The formula is also noted to be creamy — you can use either of Fenty Beauty's new brushes to gently swipe it onto your skin. It just depends on how you want the product to work for you; Fenty Beauty recommends the Cheek-Hugging Bronzer Brush for an all-over glow, and the Sculpting Bronzer Brush if you want to apply the product more precisely.
More interested in completing your highlighter collection with the new shades? Fenty Beauty has unveiled everything you need to know about them, too. Just keep scrolling down to browse the new highlighters, along with the bronzer and brushes.