Why KORA Organics' New Vitamin C Serum Isn't Just Another Brightening Product
Kora Organics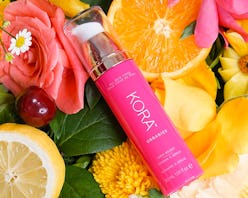 Nearly every day you hear about a new skincare product that promises to be the be-all and end-all that'll upgrade your routine. But your beauty shelf can only hold so much, which means you eventually reach a point where you have to be a bit more discerning about the products you buy. Then, it becomes a matter of determining which buys will bring you the most skin-loving benefits in a single bottle. Enter KORA Organics' Noni Bright Vitamin C Serum, a potent blend of brightening goodness plus lots of other complexion-perfecting ingredients — it's the new product you should actually try this season.
Vitamin C serums seem to be a dime a dozen these days, which can make it difficult for even the most seasoned beauty buff to determine what iteration deserves a spot on their skin care shelf. But the ingredient is so buzzy with good reason — its ability to brighten and tone the complexion makes it a worthy addition to nearly anyone's regime, so it's no wonder that basically every beauty brand has its own take on a radiance-inducing serum full of vitamin C. But KORA Organics new Noni Bright Vitamin C Serum may just be in a class all its own.
The brand-new $68 skin care product, which launched on June 10 at KORA Organics' website, packs a serious punch of vitamin C via the most stable form of the vitamin available. Ascorbyl Glucoside, a water-soluble derivative of the vitamin, sinks into skin quickly upon application (even faster than other forms you might've heard of, like L-Asorbic Acid) so you get all the benefits before it breaks down due to oxygen exposure.
KORA Organic's Noni Bright serum, which is also available at Sephora, boasts a 12 percent dose of the vitamin — and at that potency, you won't just see brightening powers, but also an improvement in the elasticity of your skin, so it looks firmer and more youthful with each use. Plus, it'll help protect your skin from environmental factors that can induce signs of aging. But that's not all. The serum's heavy-hitting Vitamin C Superfruit Complex also includes a whole bunch of skin-brightening superfoods like kakadu plum, acerola cherry, orange and lemon peel, and noni, all of which fight against dark spots, uneven skin texture, and fine lines for a glowier face in no time flat.
You'll also find sodium hyaluronate (a quick-absorbing form of skin-plumping hyaluronic acid), anti-inflammatory olive leaf extract, and antioxidant-rich red pepper in the Noni Bright Vitamin C Serum, making it a multi-tasking, nutrient-rich treatment that does more to give you healthy, happy skin. Apply it in the morning to a freshly washed face ahead of moisturizer for an instantly brighter look.
Already cleared a coveted spot on your skin care shelf? Good. Now grab a bottle of the complexion boosting serum below.