Glossier Supers Got A Major Relaunch, & I Tried Them First — EXCLUSIVE
Glossier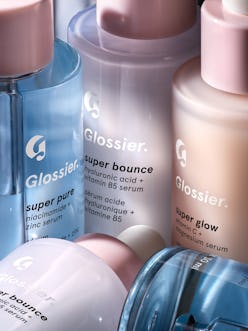 One of the most common questions that I always get is about my skincare routine. I guess the notion is that as a beauty editor, I'm trying out new products on a daily basis. When it comes to skin, that's a bit far from the truth — I tend to stick with what I know. Do I have access to tons of stuff from some of the best brands? Yes. Do I want to risk the state of my complexion by trying out a risky ingredient? Not necessarily. But I did so for the sake of a Glossier Supers review, since the brand released a massive relaunch of the serums today. The trio of serums, packaged in clear, heavy glass bottles, are packed with ingredients that always do my complexion really well... a careful and intentional curation from the brand.
Read more: Brands Like Glossier With Cool, Simple, & Affordable Products
"We like to think of the Supers as supplements for your face; they're designed to adapt to what your skin needs at any given moment," Melissa Souto, Glossier's Director of Product Marketing & Development, tells The Zoe Report exclusively. Super Pure, she says, is perfect if your skin is feeling stressed or congested. Super Glow energizes and brightens, and Super Bounce gives an extra dose of hydration. "You'll see long term results when you use them daily and can layer all three for extra benefits," she notes. The biggest difference between the old serums and the new, the brand explains, are the increased percentages and the updated packaging to give double the product. So equipped with those easy-to-follow instructions and key info, I set out in quest of "Glossier model skin," as social media calls it.
Following a long night of Met Gala coverage, my complexion looked a little bit dull... so I decided to try Super Glow first, as it contains magnesium and vitamin C. "Vitamin C is perhaps the most effective antioxidant we have, topically. Think of it like a fire extinguisher that puts out free radical damage in the skin," Dr. Joshua Zeichner, Director of Cosmetic and Clinical Research in Dermatology at the Mount Sinai Hospital in New York City, tells me. "It can help protect the skin against UV damage, and even the skin complexion by blocking production of abnormal pigment."
After using a bit of the brand's Solution, a chemical exfoliator with a 10 percent blend of acids, I used the dropper to apply three generous drops of the serum in the palm of my hands. The consistency looked a bit thin compared to my normal gel textured go-to, but felt so silky once I patted it in. Sometimes, you can feel product sit on the surface of your skin... but Super Glow absorbed super-fast without any hint of grease or residue. I waited a few seconds before finishing my routine with the Priming Moisturizer and the Invisible Shield, and went on about my day. I did all of this before a long train ride to Boston and actually went a bit heavier on the moisturizer in case the air felt dry. Once I emerged from my car, I examined my complexion in my front-facing camera and was mesmerized by how even and glowy my face looked. Granted, Dr. Zeichner tells me that it takes several weeks of continuous years to notice any lightening of dark spots... but I've been experimenting with Super Glow for nearly a week now and already see a difference.
I'm excited to play around with the other formulas as well. Super Bounce, with hyaluronic acid and vitamin B5, will be super clutch when my skin feels dry after a flight, since hyaluronic acid is the ultimate skin plumper. "Think of it like a sponge that can bind to a thousand times its weight in water," Dr. Zeichner assures me. "Within minutes of application, skin will be more hydrated and visibly plumper." And Super Pure, with niacinamide and zinc, can help with those annoying chin and forehead breakouts that I tend to get a few times a month. My only point of concern was layering all of the different ingredients. But theoretically, these ingredients should be able to be used together, Dr. Zeichner says. "Of the three, vitamin C is the only ingredient that is unstable. Both niacinamide and hyaluronic acid are extremely stable and used in the base of many over-the-counter formulations." The best order to layer, according to Souto, is applying Super Pure first, Super Bounce second, and Super Glow last for optimal absorption.
As for me and my quest for Glossier model skin, Souto notes that the meaning of that is somewhat fluid. It doesn't necessarily indicate a clear and glowing complexion... but it does prioritize the brand's "Skin First" philosophy. "Our goal is to create effective, intuitive, and approachable products that our customers can build a routine around, no matter where they are in their skincare journey," she says.
Shop the new Supers, ahead.
We only include products that have been independently selected by The Zoe Report's editorial team. However, we may receive a portion of sales if you purchase a product through a link in this article.