Katy Perry Is Engaged To Orlando Bloom — & Her Ring is So Untraditional
Matt Winkelmeyer/Getty Images Entertainment/Getty Images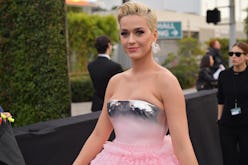 Orlando Bloom and Katy Perry had an extra-special Valentine's Day, according to Instagram. The couple's latest selfie shows them nuzzled up in front of a wall of heart-shaped balloons, and front and center was a new accessory on Perry's ring finger. It's official: they're getting married, and you won't believe how wonderfully eccentric Katy Perry's engagement ring is.
The internet overflowed with all the romantic social media posts on Thurs., from Miley Cyrus' throwback wedding photos to Barack Obama's sweet (and hilarious) picture of Michelle mid-dance. Nobody topped Bloom and Perry, though, who made the holiday their official engagement date.
On Fri. morning, Perry made the announcement in the subtlest way, captioning her photo with "full bloom." Her groom-to-be followed suit, sharing the same photo with the caption, "lifetimes." And if it weren't for their subliminal messaging, you might not have even realized the ring in the picture was an engagement ring at all.
The statement accessory certainly doesn't look like your typical engagement ring. It's shaped like a pretty flower with a massive pink diamond in the center surrounded by smaller (but definitely not small) diamond "petals" on a gold band. Bloom obviously knows his bride, because this super-meaningful, unconventional ring suits Perry's style so well.
The engagement isn't completely unexpected, seeing as the couple has reportedly been living together and aren't shy to share their affection for each other on the public platform (where they have more than 77 million followers combined).
In Jan., Perry posted a sweet tribute to her future husband, saying "happiest 42nd birthday to the kindest and cutest man I've had the pleasure of spending time with."
Who's to say what kind of playful gown this stylish bride will wear on her big day? Until then, get inspired by these engagement rings in Perry's unique style.
Shop Engagement Rings