Allow Kate Middleton's Style To Guide You Through Holiday Party Season
Chris Jackson/Getty Images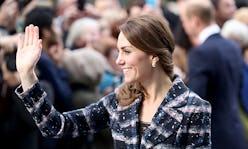 If you had to sum up Kate Middleton's best outfits in just a few words, which adjectives would land at the top of your list? The Duchess of Cambridge never fails to piece together ensembles that are equal parts fashion-forward, refined, and timeless — and her Nov. 2018 lineup has certainly been no exception. That's what makes Middleton's style the ideal guide for holiday dressing (no matter your plans).
Middleton has made a handful of staples a mainstay in her wardrobe (read: classic, knee-length frocks and colorful coat dresses), and she's certainly not afraid to re-wear the pieces she really loves. But in recent weeks, the Duchess has slowly started to take some fashion risks, opting for brighter, bolder hues and statement-making accessories that, while outside of her wheelhouse, still exude her signature elegance and class. It's safe to say Middleton has built a well-rounded wardrobe over the years — one that's certain to have something for every occasion, whether it's a black-tie affair or a casual gathering.
Though there are no distinct dressing rules when it comes to piecing together a holiday party outfit, it's likely you want one that's elegant, on trend, and, most importantly, comfortable. Ahead, three of Middleton's very best outfits from her recent engagements that are perfect for every type of holiday party, along with The Zoe Report's roundup of trend-forward staples you'll need to recreate each look yourself.
The Pleated Dress
On Nov. 15, the Duchess of Cambridge visited the BBC in London wearing what might be one of her brightest look to date: a vibrant turquoise coat dress from one of her all-time favorite designers, Emilia Wickstead. The piece, which was plucked from Wickstead's fall 2013 ready-to-wear collection, features a subtle, square-cut neckline, a pleated skirt, and side-button detailing. This wasn't the first time she was spotted in the elegant number — and it wasn't the second, either.
The Nov. 15 sighting marked the third time Middleton has turned to the classic, colorful coat dress. Each time, there were slight styling differences, but the elements that remained the same? Simple heels and understated jewels that offered up a bit of sparkle. This holiday season, make like Middleton and try out a dress with a pleated skirt. Not only will it look incredibly elegant, but it offers just the right amount of movement for dancing the night away.
Shop The Look
The Skirt Set
If you're wanting to go a slightly more untraditional route with your holiday-party look (or, you're just not really a dress person), look toward this Middleton-approved outfit as a guiding light. On Nov. 21, the Duchess was photographed at the University College in London sporting a dark-red wool skirt and coordinating double-breasted blazer. To combat the chill temperatures, she added in black tights and a warm, wool turtleneck, topping off this perfect, festive ensemble with gold hoop earrings, simple black pumps, and a matching black clutch.
Next time you're struggling to piece together a classy yet unique holiday look, take note from Middleton and pair a skirt — whether mini, midi, or maxi — with a matching top. Don't forget to throw in a few glitzy pieces, like chandelier earrings or a fun, crystal-embellished bag for a ensemble that's refined and glam.
Shop The Look
The Velvet-Trimmed Piece
Velvet shows zero signs of slowing down this season. Everyone from Olivia Munn to Lea Michele has donned the luxe fabric, but if you're not ready to dive head-first into the trend with a full velvet look, take some style cues from Middleton. On Nov. 11, the Duchess attended the Remembrance Day service at Westminster Abbey in London, wearing a dark-green Catherine Walker coat dress that featured understated velvet trim on the collar, pockets, and sleeves.
She accessorized the outfit with black pumps and a velvet Jane Taylor hat that was designed to resemble a crescent moon. The main takeaway from Middleton's elegant evening look? Even a subtle touch of the glistening fabric goes a long way. What's more, the market is chock-full of velvet-trimmed pieces that are perfect for any upcoming holiday party, so you'll have no problem finding something that's in line with your personal taste.
Shop The Look