Meghan Markle & Kate Middleton Finally Reunited — Here's Why Their Outfits Were So Different
Clive Mason/Getty Images Entertainment/Getty Images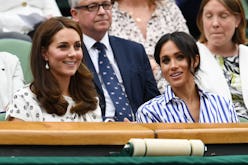 It was a busy Sun. for the royal family. On Nov. 11, the Duke and Duchess of Cambridge attended the Remembrance Day service at Westminster Abbey in London alongside the Duke and Duchess of Sussex. And though they're rarely spotted together, Meghan Markle and Kate Middleton's Remembrance Day outfits prove that when they do make a joint appearance, it's guaranteed to be a stylish affair. Both royals looked elegant and fashion-forward for the special event, but each donned attire that was specific to their unique tastes.
For the Sun. evening ceremony, Markle traded in the black button-up coat she wore earlier in the day for a navy-blue peplum top, featuring a boat neckline (one of her favorite silhouettes), large buttons, and a belted detail. She paired the top with a matching navy-blue skirt that landed just below her knees, grounding her look with blue pumps. As for her accessories? Markle topped off her ensemble with a luxe, velvet fascinator, a simple clutch, and sheer tights.
Middleton (who is the queen of recycling outfits), re-wore an emerald-green Catherine Walker coat dress for the occasion. She was first photographed in the piece last year while attending St. Patrick's Day services in Ireland. But Sun.'s styling approaching was slightly different.
The coat dress features dark-green velvet around the collar and pockets, as well as gold button-detailing. It falls right at the knees (similar in length to Markle's), but rather than going for a bare-legged look as she did in 2017 (or, like her royal sister-in-law chose for Sun.'s occasion), the Duchess of Cambridge opted for sheer black tights.
The Duchess rounded out her outfit with black pumps and a black clutch, both from Jimmy Choo, and a velvet Jane Taylor hat that was designed to resemble a crescent moon.
It's no secret that Markle and Middleton have very different dressing approaches. While the Duchess of Sussex is know for her protocol-bending ensembles (take, for example, the mini blazer dress she wore back in Aug.), Middleton typically stays more in-line with royal style etiquette, opting for high necklines and longer silhouettes. Seeing the two together only highlights their difference in taste.
Markle favors staples rendered in elegant neutrals (think: creams and whites) as well as darker hues like navy and black. Unsurprisingly, her Remembrance Day ensemble was right in line with her signature color palette. Middleton, on the other hand, typically dons more colorful pieces, and as such, her emerald-green Catherine Walker coat dress was a fitting choice.
It's worth noting that the Dutchess of Sussex made headlines when she wore a bright-red dress by Self Portrait while in Tonga last month, but it's likely she'll frequent dark blues and blacks in lieu of bright, poppier colors in the coming months.
Although their styling preferences are so different, there were a handful of subtle similarities between Middleton and Markle's outfits. Both the Duchess of Cambridge and the Duchess of Susexx donned knee-length pieces with a double-breasted button detailing, sleek heels, and, of course, a poppy pin in honor of the fallen soldiers.