7 Royal-Approved Gifts For The Kate Middleton Of Your Friend Group
Jane Barlow/Pool/Getty Images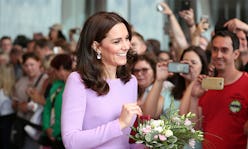 Long before Meghan Markle started monopolizing fashion headlines, Kate Middleton was the most stylish member of the royal family. For the near decade she's been a duchess, her look has remained timeless and sophisticated. It's no wonder why your friends want to dress just like her, and now you can make their wishes come true with a Kate Middleton-inspired gift.
Remember waking up in the early hours of the morning to watch Prince William's bride walk down the aisle of Westminster Abbey in 2011? The Duchess of Cambridge stunned spectators in an Alexander McQueen wedding gown back then and still inspires trends now, almost eight years (and three kids) later. Fan or not of the royal family, there's hardly a better gift for your fashion-forward friends than something the Duchess would wear — or better yet, has worn before.
While you probably won't be able to get your fingers on those crown jewels anytime soon, you can certainly snag the statement earrings hanging in her armoire. If the Duchess' favorite handbag isn't in your budget, then certainly her $7 non-slip tights are (what better stocking stuffer than actual stockings, anyway?). Ahead, seven stylish gifts for the person who loves Kate Middleton.
Shop Kate Middleton-Inspired Gifts