Everything You Need To Know About The Next Engagement Ring Trend
Courtesy of Mociun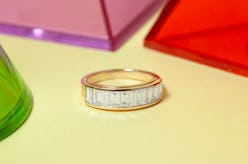 It's natural to assume that every woman wants a sizeable, glitzy, over-the-top engagement ring. But for some brides-to-be, bigger is not always better. Certain tastes gravitate towards simplicity — something that used to be standard when modest gold bands indicated one's betrothed status — and a baguette engagement ring band in lieu of a traditional sparkler is one of the latest bridal jewelry trends going against the engagement ring grain.
There are a lot of ways to defy tradition with an engagement ring these days, whether it be gemstone center stones, cluster rings, or alternative diamond cuts like shields, trapezoids, and half-moon shapes. It all stems from the desire to have a distinctive ring that's not at all cookie-cutter — a shift towards uniqueness, if you will. While there are myriad ways to rejigger a solitaire, three stone, or cluster engagement ring, a baguette band is a refreshing choice for alternative types seeking an exceptionally unassuming ring. It's blingy without the in-your-face kind of sparkle you get from a ring with a center stone, and a lot more durable for those who are hard on their hands or feel as though a big diamond ring isn't wearable for the everyday.
For a deeper understanding as to why baguette rings are having a moment, fine jewelry designers Lizzie Mandler, Caitlin Mociun, and Ashley Zhang explain the ins and outs of the trend and why it's worth considering for your engagement ring. Read on for their expert insights and shop the edit if you're convinced a baguette engagement ring is right for you.
The Trend
Originating during the Art Deco period in the 1920s, baguette diamonds have an inherently classic, almost vintage feel to them, according to Brooklyn-based designer Caitlin Mociun, but the jeweler says that an interesting setting can make them feel super modern. "I like to use baguette diamonds as a little divider between elements. You can put them in a line, arrange one horizontally and one vertically, stack them in different ways that are visually pleasing and non-traditional."
Light in weight with a slim shape, baguettes are most commonly used as accent stones. But when designed to be the focal point, they appear strikingly geometric and sleek which is perfect for the bride that's not as drawn to popular engagement ring styles like oval, cushion cut, and round diamond solitaires on thin pavé or minimal gold bands.
"There is a type of woman on the go who wants to wear her engagement ring every day with any outfit and a sleek, sparkly band is perfect for that and doubles as a fashion-forward statement piece," Mociun says.
New York City-based fine jewelry designer, Ashley Zhang says she's noticed a trend in brides opting for a larger carat band over a traditional engagement ring to create unique and personal ring stacks. "[Baguettes] look great added in a stack of bands to add a different type of sparkle." The designer also says that tapered baguettes are becoming very popular in addition to traditionally rectangular-shaped baguettes.
Lizzie Mandler, an LA-based fine jewelry designer has also seen a big interest in baguette eternity band styles over the last few years, attributing the uptick to the vintage appeal of the stone shape. "Baguettes are a great option for modern brides because they feel traditional but are linear and can be quite modern depending on the way they're set," says Mandler. "I love an alternating tapered baguette band in a channel setting — it's complex and different but modern and clean at the same time."
The Sparkle Factor
While baguette bands are without center stones, they aren't entirely unassuming. "I always recommend baguette bands for brides that are looking for something more understated but still diamond heavy and with a subtler sparkle," says Mandler. "The baguette band is substantial without looking like you have 15 carats of diamonds on your hand."
With a step-cut pattern and trapezoidal facets, baguettes reflect light differently than their brilliant counterparts like round, oval, pear, and marquise shapes which have the most brilliance (for reference, Asscher and emerald-cut diamonds also have step-cut patterns, which appear more geometric). "The step-cut pattern has a 'hall of mirrors' effect which draws the eye in rather than shining light out as much," Mandler says. The jeweler also notes how baguettes tend to show dirt faster than round or brilliant-cut diamonds, which is an important consideration if mega-watt sparkle is important to you.
"It's more of an understated elegance," Mociun says of baguette rings. "A round brilliant cut will give you more sparkle and brilliance, but a baguette will give you a cleaner, sleeker look." So, depending on the setting, baguettes are great for a woman with understated style or someone whose style is classic with an edge."
Pricing
When shopping for a baguette band, you'll notice that pricing can be as steep as a two or three-carat diamond, but there's a reason. "Baguettes can be very expensive because they're more difficult to cut from the rough and make matching sizes," says Zhang. The designer says to pay close attention to the details of a baguette band before buying, too. "Make sure to look at the details of the ring, including the total carat weight, and width of the band. Sometimes baguettes can look larger in pictures and then when you see them in person you realize how tiny they are."
Mociun says that the color grade and clarity of baguette diamonds is another contributing factor to price. "Any step-cut stone is going to show more color, so you'll notice a lower color grade in a baguette more than a brilliant cut, and inclusions tend to be more visible. Because of that, we tend to use baguettes with higher color and clarity, so they can be costly, but I think that quality is important."
Pairing
If you love the idea of a bridal ring stack or can't resist a traditional engagement ring-and-wedding-band set, baguette pairings are a big consideration, starting with the color of the diamonds. "If you're pairing a baguette wedding band with an engagement ring that has a diamond center stone, make sure the color of the baguette diamonds matches or is similar to the color of the center stone. Or, make it obviously different," says Mociun. "We've designed rings with yellow or champagne diamond center stones and paired them with white baguette accent stones, so there's an intentional offset of color."
Mociun and Mandler agree that baguette bands add a simple, clean, and geometric element to an engagement ring with a center stone from asymmetrical cluster rings and gemstones all the way to classic cuts and settings. "Part of the appeal of baguette diamond bands is that they look beautiful with many different center stone shapes, cuts, colors, and settings," says Mociun.
"I think baguettes are always well paired with any step-cut stone like emerald cuts and Asschers, but they can also look really beautiful when contrasted with brilliant cuts like round and marquise diamonds," Mandler adds.