Meghan Markle Just Bent Royal Protocol In The Most Stylish Way
Rupert Hartley/Shutterstock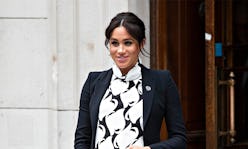 If you thought Meghan Markle was going to skirt by International Women's Day without making an appearance, then you have a lot more to learn from this royal feminist. The duchess just joined a panel with other boss ladies to talk about gender equality, and — whether coincidence or not — the outfit she chose challenged the dress code slightly. Meghan Markle's printed mini dress was a bold pick for the powerful event.
The mom-to-be sat alongside Annie Lennox, model Adwoa Aboah, former Prime Minister of Australia Julia Gillard, and others at King's College London on Fri. The group of activists chatted about "obstacles [that] still affect female empowerment across the world, including access to education and limitations within employment," Kensington Palace said in a statement.
On the same day, it was announced that the Queen has appointed the duchess as Vice President of the Queen's Commonwealth Trust, of which Prince Harry is president. It looks like Markle is rising through the ranks already — and dressing like it, too.
Markle chose a black-and-white printed shift dress reminiscent of the '60s for Fri.'s event. The Reiss mini is long sleeved with a high neckline and a graphic block swirl design. She paired a business-ready blazer over it and finished with sleek black pumps.
The dress showcased her growing baby bump and hit above the knee, bending royal protocol in true Markle style. Even though she's new to the family, the duchess certainly hasn't been afraid to challenge the age-old dress code.
In Oct., the 37-year-old wore a sheer pleated skirt during the couple's tour of New Zealand, then she wore black nail polish at the British Fashion Awards, which the Queen has frowned upon in the past. Markle wore the dark hue on her nails again when she and Prince Harry attended a Cirque du Soleil performance in Jan.
While her short mini might be bold by royal standards, it's a pretty standard length for a commoner. Get the look with Markle's exact printed dress and others like it, ahead.
Shop The Look