J.Lo's Best Haircuts *Ever* Included A Version Of "The Rachel"
Steve Granitz/WireImage/Getty Images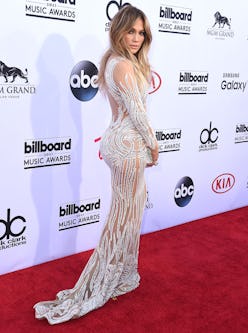 Jennifer Lopez might be known to change her nail polish every day (and more often than that, on some occasions), but the actor and singer seems to change her hair nearly as much. And no, that doesn't just mean she wears her hair down one day and up in a ponytail the next; as evidenced by her hairstylist Chris Appleton's Instagram posts, Lopez frequently bounces between lengths and styles, often showing up in long, bombshell tresses one day and a bob shortly after. So it's no surprise that the list of J.Lo's best haircuts of all time is a long one.
It also starts *quite* a while ago. Because though many celebrities have tested out some of the past's questionable hair trends, J.Lo doesn't seem to have been one of them. In fact, even some of her haircuts in the '90s are still enviable enough to copy today — so much so that they're still being resurrected by other stars. Take her version of "The Rachel" haircut, which Lopez donned at the height of its popularity in the late '90s; it's now being worn in 2020 by major celebrities like Selena Gomez, proving that the star clearly knew how to choose looks that would somehow never go out of style, even more than 20 years later.
But again, there are plenty more cuts on the list of Lopez's best haircuts of all time, so keep scrolling for some serious inspo — nine of them are ahead.