A Jewelry Expert Explains Why Jennifer Lawrence's Engagement Ring Looks So Familiar
Kevork Djansezian/Getty Images Entertainment/Getty Images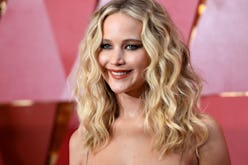 Paris Fashion Week only just started, but it's already been chock-full of some of the most memorable street style and front row moments of the season. Case in point: Karlie Kloss' tie-dye shirt, Olivia Palermo's comfy, chic loafers, and, last but certainly not least, Jennifer Lawrence's engagement ring debut. That's right, the Mother! actor finally flashed her new bling for the cameras on Tues. — and it was certainly worth the wait.
Lawrence has kept it fairly low-key since reports first surfaced of her and Cooke Maroney's engagement earlier this month. But on Feb. 26, the actor officially confirmed the news when she showed off the ring while sitting front row at Dior's Fall/Winter 2019 runway presentation.
The bauble perched on Lawrence's finger is much glitzier than it was initially thought to be — and it's right in line with one of the biggest celebrity engagement trends of the moment. "Based upon newly surfaced photos, Jennifer's engagement ring appears to feature a 4 to 5 carat, elongated cushion or an emerald-cut diamond in a white gold or platinum solitaire setting," Kathryn Money, vice president of strategy and merchandising at Brilliant Earth, shares with The Zoe Report via email.
As for its value? Money estimates Lawrence's ring to be worth anywhere between $60,000 and $100,000, "depending on the quality and specific characteristics of the center diamond."
Original reports did call the ring "massive," but the photos that surfaced of it on Feb. 7 showed quite the contrary. It appeared to be a diamond-less gold band with the minimalist-leaning vibe that has reigned supreme this year.
Though Lawrence's engagement ring isn't quite as simple as first believed, it's still super on trend. According to Money, the actor's sparkler aligns with one of 2019's most sought-after jewelry trends. "Fancy cut, non-round gemstones, particularly emerald cuts, are becoming increasingly popular," she says, citing, Katherine Schwarzenegger, Karlie Kloss, Lea Michele, and now, Lawrence, as notable examples.
A fancy-cut diamond adds a unique touch, especially when set atop an unadorned, petite band. But there might be another reason celebs have been favoring the particular style over the countless others. "Emerald and elongated cushion-cut diamonds create a flattering look, as their elongated shape lengthens the wearer's finger," Money says.
Lawrence's ring is the ideal choice for the timeless, classic bride. It's simple and understated, with just the right amount of sparkle. Ahead, The Zoe Report rounded up the prettiest engagement rings on the market, all of which pay homage to Lawrence's.
Shop The Look