This Graphic Eyeshadow Trick From Dior's Fall Show Is So Easy To Replicate
Christophe Ena/AP/Shutterstock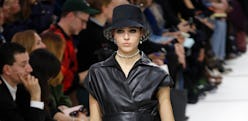 There's an inexplicable sense of calm backstage at Dior Fall/Winter 2019 — one that's very much unlike the shows in New York City. Stateside, there's often a level chaos ensuing — models are typically getting their hair, makeup, and nails done at the same time, all while the editors and photographers try their best not to bump into each other. (I still have a tiny scar from the pointy end of someone's lens last season.) But in Paris, there's plenty of space and time for everyone to just relax. So much so that lead makeup artist Peter Phillips, who did Dior's Fall/Winter 2019 makeup, had time to perfect every models' graphic eye makeup before she hit the runway at the Musée Rodin.
Though the vibe was relatively chill, the soundtrack of the morning could've easily been plucked from London, circa 1950s. "It's inspired by the fifties and sixties," Phillips, the Creative and Image Director of Christian Dior Makeup, tells a small group of editors backstage, later pointing to the tartan prints, trench coats, and bucket hats that made up the collection. "You know how London had the Teddy Boys? These are the Teddy Girls. The inspiration is that street culture, those London gangs."
To make that clear, Phillips gave each girl a "cartoon-style interpretation" courtesy of heavy, exaggerated lower lashes, painted on with eyeliner and a tiny bit of kohl. "It's very rough and heavy-handed," he describes. Keeping in tandem with the smoky eye trend of the season, all girls wore a "pitch black graphic eye" that blended in with the shadows of their hats, he explains.
Though the concept of a graphic black eye could seem tricky to most, Phillips' trick is to work with an open eye shape as opposed to a closed lid. "You have to look with the eye open... that's what counts," he explains. "Don't look with the eye closed, because it will smudge anyway. While the eye line is still wet with product, I look down and fill it in where it leaves the mark, and then I touch up. Then, fill in with a chunky eyeliner and elongate the eye closer to the line." And for darker skinned models, an assistant tells me that the trick to getting black pigment to show is to use something reflective, which creates a sense of contrast. You can't layer too much — less is more here.
As for mascara, the topmost lashes were of most importance — no bottom lash lines were coated, as to keep attention to the graphic lines. Diorshow Maximizer 3D (available Feb. 27) has enough volume, he says, with the help of two layers of the Diorshow Pump 'N' Volume. Phillips describes the lashes as a bit chunky, but still separated... not spidery.
If you look closely, the bottom "lashes" weren't actually triangles — "little rectangles," he describes. "Not really pointy." To make them supremely inky, he relied on a cream eyeshadow because they're easy to use. However, most of his assistants painted the shapes with Diorshow On Stage Liner in 091 Matte Black, using a bit on top lash lines, too. "It's a beautiful, nice matte that doesn't crack," he says.
Brows weren't super duper important, since most of the models wore hats with brims... and at the test, Phillips and his team determined that a big, bold brow would be too much. "Since the eyeshadow is so graphic, you almost needed a graphic eyebrow or no eyebrow at all," he says. "Especially with the blonde girls, it almost became an extra line on the face. If there was a gap in the brow, we filled it in very subtly."
But things weren't all dark and gloomy — this is Dior, after all! "The girls all have beautiful skin," he explains. "They're wearing these little hats, but there's a part of the face that's going to stay luminous." A bit of gold and pearl pigment from the Dior Backstage Glow Face Palette in 001 did the trick — no contouring at all.
As for the lips, each girl wore the new Dior Addict Stellar Shine lipstick in Mirage 260, a rosy pink which almost applies like a balm but delivers beautiful saturated color — totally unexpected, which, perhaps, is what punk is all about.
Ahead, shop some of the hero products behind the look.