Jennifer Lawrence Officially Debuted Her Engagement Ring — & It's Not What We Expected
Kevork Djansezian/Getty Images Entertainment/Getty Images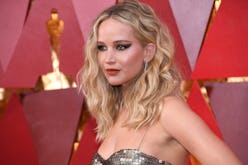 The moment you've been waiting for is finally here: Jennifer Lawrence debuted her engagement ring from boyfriend Cooke Maroney in the most perfect way. Since news first broke of the couple's engagement in early Feb., Lawrence only offered up glimpses at what was speculated to be her dazzler from afar — a simple, thin gold band that was every minimalist's dream. But on Tues., she officially flashed her jaw-dropping new bauble at Paris Fashion Week — and it's much glitzier than expected.
On Feb. 26, Lawrence was photographed sitting front row at Dior's Fall/Winter 2019 runway presentation. She looked simply stunning in a collared tweed dress and plaid ankle strap pumps, both by the French fashion house, but the shiny accessory perched on her ring finger stole the show.
Original reports called Lawrence's ring "massive," but the photos that surfaced on Feb. 7 following her engagement showed quite the contrary. Although the ring was initially thought to be diamond-less, the actor finally set the record straight. Her new bauble is, indeed, massive, confirming earlier reports.
"Based upon newly surfaced photos, Jennifer's engagement ring appears to feature a 4 to 5 carat, elongated cushion or an emerald-cut diamond in a white gold or platinum solitaire setting, " Kathryn Money, vice president of strategy and merchandising at Brilliant Earth, shares with The Zoe Report over email.
Though it hasn't been confirmed whether Lawerence's actual engagement ring and the one she was photographed with in early Feb. are the same, it's very likely they are, considering the band on both is thin, dainty, and perfectly minimalist.
That means it's possible the actor wore the ring with the diamond turned inside, waiting for a very special moment to officially unveil the bauble's beautiful (and massive) center stone. And really, what's a better place than the front row of a Dior fashion show?
Although the huge center stone certainly ups the glitz and glam of Lawrence's engagement ring, it's still timeless, elegant, and super minimal — just like the actor's style.
No details surrounding the couple's official wedding date or Lawrence's highly anticipated dress have been released quite yet. But, considering she debuted her ring at Dior's fashion show and she's worn the brand to countless red-carpet events, it's very possible the actor will be a Dior bride, too, just like model Miranda Kerr and fashion powerhouse, Chiara Ferragni.