Jennifer Garner Has Worn This Sleek Turtleneck For Years (It's That Good)
Bennett Raglin/Getty Images Entertainment/Getty Images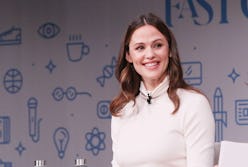 Dressing for the seasons is the easy part; it's finding an appropriate outfit for transitional weather that's hard. What's a girl to wear now that it's (finally) too warm for that cropped puffer, but not yet time to break out the floral dresses and mini skirts? Jennifer Garner's all-time favorite gray turtleneck is the perfect solution.
If anyone knows how to do sweater weather, it's the Peppermint actor. Garner is the queen of cozy knits, always walking around her LA neighborhood in some variation of jeans and a chunky jumper. In fact, often times, it's the same one.
There's one gray turtleneck in particular that she'll never get rid of. She's been wearing this loose-fitting ribbed sweater since 2016 and it's clearly not leaving her wardrobe anytime soon. Now three years after originally debuting it, she just wore it again.
On Tues., a day after the mom of three joined the likes of Reese Witherspoon and Oprah Winfrey at an Apple Event in Silicon Valley, she returned to her regular routine, which consists of running errands on foot while carrying a cup of coffee.
She dressed in light-wash skinny jeans, metallic strappy sandals, and that light-gray sweater she adores so much.
This versatile top — which features subtle slits on the neck and wrists — is Garner's key to a chilly morning. She originally wore it with sneakers while walking her kids to school in Dec. 2016. Then, a month later, she sported it again on a rainy day in LA, this time with cropped denim and flip-flops.
The gray sweater is obviously her secret weapon for dressing cozy while still looking chic. Come to think of it, we could all use a wardrobe staple like that.
Get yourself a Garner-inspired neutral sweater to go with your weekend outfits for years to come. These similar turtlenecks deserve a spot in your collection ASAP.
Shop The Look