Are Turtlenecks Back In Style? The History Of This Classic Sweater Will Surprise You
Grosescu Alberto Mihai/REX/Shutterstock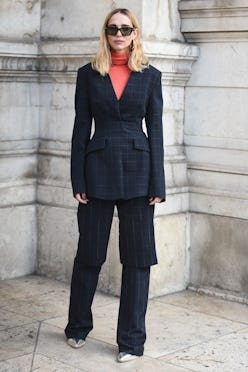 The year I turned 13, my grandma gave me a black cashmere turtleneck under the pretense that it was timeless — something I'd wear for the rest of my life. I wasn't so sure: As a teenager in Southern California, I found it unbearably warm — and more than a little frumpy. The sweater lived untouched, nestled in a dark drawer until I dug it out nearly a decade later for a trip to Paris. The forecast was cold; the turtleneck was warm — it was that simple. But when I glanced at my reflection in a shop window, I saw the light — not only was I cozy, but I looked so...cool. Sure, it might have been the Parisian light, and sure, it might have been the fact that I was well-rested on vacation, but it had me thinking: Are turtlenecks in style right now? Despite my initial misgivings, it turns out that the classic turtleneck was never really out. A brief look into this wardrobe staple's history proves just that.
Recent pop-culture incarnations haven't always been inspiring — think: Drake's shapeless grey knit in "Hotling Bling;" its frustrating use to signify Diane Keaton's sexual repression in Something's Gotta Give — but the turtleneck has been knitwear's boldest power player since the word "sweater" was coined in 1882. You can trace the modern day turtleneck's predecessors all the way from Medieval chainmail to the Elizabethan ruff and the high-necked Gibson Girl shirtwaists — though none of these items bear the modern day turtleneck's trademark versatility.
What started as a pre-Raphaelite way to highlight the neck, according to The Anatomy of Fashion author Colin McDowell, has slowly evolved into a key piece for layering (both with jewelry and other tops) and keeping you warm come cold weather.
Sportswear emerged as a new fashion frontier at the turn of the century, and though originally aimed at men, turtlenecks — then called roll necks — became best-sellers after Sears began offering a simple women's iteration in 1905, priced at just 85 cents. The turtleneck slowly emerged outside the realm of sports in 1924 after British playwright Noël Coward styled one with a blazer during a performance of The Vortex. Since borrowing from the boys was already de rigueur in the 1920s, with young women embracing androgynous silhouettes as the height of sophistication, and the turtleneck became a unisex hit.
Still, the turtleneck really came of age in the second half of the century. The 1950s and '60s cemented its status as the epitome of laidback, rebellious cool. French chanteuse Juliette Gréco's preference for black turtlenecks and bold, cat-eye eyeliner became as notable as her relationship with jazz musician Miles Davis and friendship with existentialists Jean-Paul Sartre and Jean Cocteau. As the sartorial symbol of the Left Bank existentialists, Gréco and her turtleneck represented a chic alternative to bourgeois culture: a fashion antihero. Simple, accessible, and unisex, the turtleneck put the emphasis on thought over frippery. Widely linked to the intellectual elite (and its wannabes), the garment became the de facto uniform for the Beats, activists, nonconformists, and stylish women alike.
While actresses like Lana Turner and Jayne Russell had already embraced snug sweaters as a way to silently protest Hays Code-era modesty standards, Marilyn Monroe's choice of a black turtleneck for her 1953 LIFE photoshoot is undeniably pointed. Posing for photographer Alfred Eisenstaedt in a black turtleneck and white pedal pushers, Monroe curls up to read Dostoyevsky, belying the 26-year-old actress's wish to be seen as a beauty with brains. Even Vogue editor Diana Vreeland said her "favorite costume when she was working or party-going was narrow black pants with either a black turtleneck sweater or elaborate tunic, depending on the occasion," according to the New York Times. Lauren Bacall, Eartha Kitt, and Ann Margaret followed suit.
By 1957, the turtleneck had become so ubiquitous in bohemian circles that the Audrey Hepburn and Fred Astaire vehicle Funny Face poked fun at this uniform. Hepburn dons the bohemian staple to flee from a squad of fashion editors bent on transforming her into a glamorous cover girl, roam the streets of Montmartre, and spring into an expressive modern dance number in a smokey café's cave. John, Paul, George, and Ringo chose matching black turtlenecks in 1963 for the cover of their second studio With The Beatles. The turtleneck even made headlines in The New York Times, the paper running "Girls in Paris Like the Look of Turtlenecks" in 1963, followed by "And The Neck of The Turtle Is Seen Throughout the Land" in 1967. Their appeal continued into the '70s with activists Gloria Steinem and Dorothy Pitman-Hughes selecting matching white turtlenecks for their iconic 1971 photograph where they stand side by side, fists raised defiantly.
Though the turtleneck's crown started slipping in the '80s and '90s, thanks to questionable styling in teen shows like Saved By The Bell (looking at you, Zack), the '90s also brought us turtleneck icon Kathleen Kelly, played by Meg Ryan in You've Got Mail. Styling choices can make or break this old-school wardrobe staple, instantly transforming the turtleneck from understated chic to fashion faux pas. Just take a look at the cast of Friends. The turtleneck is a go-to look for Monica, Rachel, and Ross alike, and while there are certainly some sartorial eyesores to pinpoint, the issue is rarely the sweater itself.
"Style is character," Didion wrote in The White Album. It's little surprise that this literary "cool customer" would be linked to fashion's coolest sweater a decade later. Posing with her daughter Quintana Roo in matching black turtlenecks for Gap's "Individuals of Style" ad campaign in 1989, the pair stare out at the viewer. Their hair is slightly undone. Their gaze is aloof, but steady. Their snug, knit necklines create a frame for their faces to emerge as the focal point —luminous. Such is the power of the turtleneck: timeless, compelling, chic. Now, read on to shop a few current favorites for your fall wardrobe.