Jennifer Garner Keeps This Cozy, Cashmere Knit In Constant Rotation
Broadimage/Shutterstock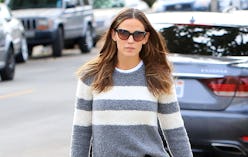 Jennifer Garner is the queen of comfort. She's constantly photographed taking her three kids to and from school in workout clothes or cozy knits (often accessorized with a children's backpack of sorts, too), and this time, the actor is wearing one of her favorite winter staples. Jennifer Garner's gray cashmere sweater is the best way to be comfortable without compromising on style.
On Thurs., the Alias actor was spotted out on her usual routine — walking to pick her kids up from their Santa Monica school — in her signature jeans-and-sweater combo. Garner tucked the front of her gray bouclé sweater into a basic pair of skinny jeans and topped it off with sleek black loafers to complete the overall cozy-yet-polished look.
She's actually been wearing the cashmere striped top by California-based fashion and home-interior designer Jenni Kayne for a while now (hence why it's not available anymore). Almost exactly a year ago, she wore the sweater with black pencil-leg trousers with zip pockets, trendy mules, and a Chanel tote.
In 2014, Garner wore a striped, navy-blue Jenni Kayne coat during an appearance on Good Morning America and she owns a plaid button-up and a crepe-tie midi skirt by the designer, too.
Nobody has mastered the art of dressing simultaneously comfortably and sleek like this mom of three. And she certainly isn't against recycling outfits, either. The 46-year-old is known for living in her Mother jeans and sporting her favorite leggings over and over again. And this fuzzy number is worth re-wearing.
The key to copping her style is picking elevated cozy staples — such as your basic sweater with a print or a warm vest with a tailored silhouette — and pairing them with sophisticated-yet-snug footwear, like an animal-print loafer or a slip-on mule.
This winter, get yourself a warm sweater like Garner's to wear with everything. Ahead are five of The Zoe Report's favorite gray cashmere sweaters similar to the Pearl Harbor actor's to get you through the cold-weather season.
Shop The Look