IGK Is Adding New Products To Its Thirsty Girl Line — Here's When You Can Shop Them
Shutterstock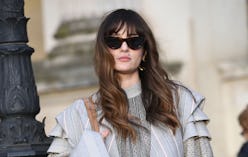 In the beauty industry these days, it seems like all roads lead to skin care. From good-for-your-skin makeup to hair care that mimics the deep-cleansing technology of your go-to face wash, just about everyone is looking to complexion-perfecting products for inspiration. And if that means the rest of your body will get some extra TLC it may have missed out on otherwise, then it's certainly a trend to get behind. Ready to give it a go? Then mark your calendars for the launch of IGK's Thirsty Girl Shampoo and Conditioner.
On April 15, cult-fave hair care brand IGK is dropping its newest development, a duo of strand-smoothing products that leans on one of skin care's most-loved ingredients. The Thirsty Girl Shampoo and Conditioner, $25 each and available at Sephora.com, Ulta.com, and IGKhair.com upon release, follows in the footsteps of the brand's popular Thirsty Girl Anti-Frizz Leave-In Conditioner and packs a powerful punch of hyaluronic acid to deep-condition for your softest, shiniest hair ever.
Yep, just as your favorite skin-plumping serum — and even your lipgloss — relies on the moisture-retaining ingredient to reveal a smoother, more even complexion, IGK's new Thirsty Girl products utilize a patented form of hyaluronic acid to do the same for your hair.
The result from using this specially formulated shampoo and conditioner duo? Smoother, healthier, fresher-looking strands that stand strong against even the most humid conditions for up to 24 hours. With hot and humid summer on its way, it's exactly what you'll need.
And IGK doesn't stop there. The super-smoothing formulation — which is also vegan, cruelty-free, and made without gluten, parabens, or sulfates — uses coconut milk to impart lightweight hydration. The tropical tree nut further softens locks, without weighing hair down or leaving behind a greasy look or feel. Bouncy, voluminous hair for the win.
For maximum tress-taming results, after lathering up and rinsing out the Thirsty Girl Shampoo, comb the Thirsty Girl Conditioner through hair and leave in for up to three minutes before rinsing out. Towel dry your hair and follow up with the Thirsty Girl Leave-In Conditioner for additional hydration and protection wherever it's needed (most likely, damage-prone ends). Then, style as desired.
Immediately after use, 100 percent of those who tested the new products reported hair that felt smoother, softer, and not weighed down — so do yourself a favor and set your calendar alert for April 15 now to grab a couple bottles for your shower.