I Only Wash My Hair Once A Week — Here's What I Use On Those Rare Occasions
Grosescu Alberto Mihai/Shutterstock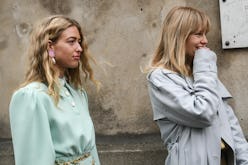 "Wow, I forgot just how much hair you have." It's a refrain I hear each time I spill myself into the chair at my go-to salon in Williamsburg. Naturally, my hair is fine and sort of straight, which tends to hide the fact that it's also ultra thick. Color-wise, I'm what I'd lovingly refer to as dirty blonde — my roots are dark, and I get highlights a few times a year to boost the hue. With all of these details in mind, my haircare routine centers around a single key fact: I wash my hair once a week.
Not only is this a great method for preserving the life of fancy creams and oils (I like a luxe shampoo), but I also love that I've been able to keep my color-treated hair healthy. And while yes, I'll admit that towards the end of the week, my roots can start to get a bit greasy — I work out all week without rinsing my scalp — I've found a cocktail of products that do all the heavy lifting when I'm sinkside. Below, I break down my hair routine step by step.
In The Shower
I tend to rinse my hair on Thursday evenings. This sounds very specific, but I have my reasons. It's ahead of the weekend, which means my locks will look their freshest when I'm out socializing with my photo-loving friends. I prefer washing before bed because I minimize damage by air-drying my hair, and sleeping on it is the key to keeping frizz at a minimum. With a shorter length, my hair used to go crazy if I air-dried it during the day. Now that it's longer, it still tends to end up a bit fluffier than I'd like if I wash in the mornings.
When the time comes to hop in the shower, I occasionally opt for a scalp scrub (my go-to is Crown by R+Co), but usually the first step is Olaplex Hair Perfector. It helps to strengthen and repair my hair, and has been a game-changer for keeping my hair texture intact through my color treatments.
For shampoo and conditioner, I switch off between Kristin Ess' The One and Oribe's Bright Blonde range. Ess' signature set smells amazing and is great for everyday, while Oribe's luxe combination always refreshes my color.
During the winter, my hair can get dry and stat-icy, which is when I'll switch to Davines smoothing products, the best I've found for replenishing.
Then, usually once a month, I finish my in-shower hair care with Shu Uemura's Color Lustre Balm. It tones my blonde hair, keeping it cool and ashy, while also leaving my hair feeling ridiculously silky.
Post-Shower
Once I've safely extracted myself from the shower and wrap my hair up in a lusciously fluffy Brooklinen towel for ten minutes or so, I get to work adding a few key products before my hair dries. The goal: to ultimately combat breakage and frizz while adding a bit of texture, which is especially important as the week goes on. I tend to rub a generous pump of Ouai Hair Oil into the ends of my hair while damp (though I'll also use it to tame any residual flyaways once dry too).
Next, I'll generously spray both the top and underside of my hair with Bumble and bumble's Surf Spray. I try to avoid the ends of my hair to keep them from drying out, but the mid-section, up to the last half inch or so is all fair game. I mostly skip heat tools, but if I'm in a rush, I'll gently blow dry my hair until it's lightly damp — I never go for a full dry.
Later In The Week
Though I find that a little sweat during the week usually doesn't leave my hair looking too limp, there are times when I hit day six or seven and the roots start to look a bit dark and sad. That's when I'll add a little extra lift with Amika dry shampoo. If absolutely necessary, I'll quickly run my GHD flat iron through my hair too for a sleek look, and pull it back into a ponytail — it's an easy way to hide the fact that my locks aren't as luscious as they were on day one.
Then, Thursday arrives and I hightail it to my shower and start the process all over again.