The Hero Product That Made Me Want To Air-Dry My Thin Hair For A Month
IMAXTREE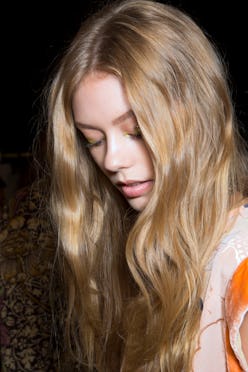 I've said it before and I'll say it again: I'm not low-maintenance. I could never camp in a tent or skip my weekly facial, and I certainly would never walk out the door without filling in my brows or blow-drying my hair. My high-maintenance tendencies swell while I'm on vacation: I travel with no fewer than four toiletry bags (one for skincare, one for makeup, one for hair, and another one for miscellaneous hair accessories and such), as well as a mini-blowdryer and baby-sized straightener; air-drying my thin hair in the summer had always been completely out of the question — especially once I let it grow out.
So when I went to Palm Springs for the first time last weekend, I surprised even myself by thinking my time would be better spent at Joshua Tree (or even just poolside) rather than fussing with heat tools in the bathroom. In a rush to get out the door, I slathered on sunscreen and a touch of concealer, brushed my hair while it was wet, added a puff of Oribe's Swept Up Volume Powder Spray at my roots, and ran out the door. My fine, limp hair tends to get frizzy when I air-dry — something that East Coast humidity really encourages. But in the desert, it just looked, well, chill. I packed away my blow-dryer for the remainder of our four-day trip. On day two, I worked to perfect the routine, adding a leave-in conditioner and a wave spray I had packed.
Within two days, my hair felt less weighed down overall, and within three, it was shinier, and even had a bit of its natural wave back. Any time I've resolved to air-dry my hair, it usually lasts about, well, a day. But this time, I'm in it for the long-haul: I vowed to keep it up through the end of April, a pact I've kept despite a few very important meetings.
Ahead, the arsenal of products I use to air-dry my long, wavy hair every day.
Volumizing Shampoo & Conditioner
As most hairstyles go, it all starts in the shower. A lot of people expect a volumizing shampoo to do all the work, but it's really just prep for the rest of the products that you'll layer on when you're out of the shower. I like this duo from Bumble and bumble.
Microfiber Towel
When I get out of the shower, I ring my hair out and twist it up with a microfiber towel. Just about anyone that air-dries their hair agrees that this step is crucial.
Hair Brush
Most air-drying tutorials suggest scrunching your hair — a throwback technique that didn't exact serve us well in 2002, either. Once I realized I needed to run a brush through my hair before air-drying, everything changed. I use this Aerin brush, which is great for wet, hyper-sensitive hair, though I should note that the Tangle Teezer is a perfectly affordable alternative (just not as chic).
Leave-In Conditioner
While my hair's still damp, I spritz Kristin Ess's Weightless Shine Leave-In Conditioner from mid-lengths to ends (about four spritzes). As the name would suggest, it lends shine without weighing my thin hair down, like some oils might.
Air-Dry Foam
After I'm done brushing my hair, I run about two pumps of Ouai's Air-Dry Foam from roots to ends. And instead of scrunching, I lightly tousle it with my fingers.
Wave Spray
After I do my makeup and get dressed, which usually takes about 10 to 15 minutes, I spritz a generous mist of Ouai's Wave Spray throughout. This gives some of the more straight — er, more damaged — sections of my hair some life.
Hair Powder
I switch back and forth between Oribe and IGK's 30,000 Feet, mostly because I still can't decide which hair powder I like better. Sachajuan's Hair Powder is a great stand-in, too. I pump a small puff of the stuff at my roots, focusing on my crown. If we're being honest, it's the only thing keeping me from looking like a wet dog; a true hero of a product.
Finishing Cream
You're at liberty to skip this step, but because I like to feel like I'm spending time on my hair, I also add a finishing cream to my ends.
Et voilà! And by now, my hair's about 60 percent dry, one of the only true benefits of having thin hair. Try not to touch it too much, and then — here's the part that you can't really do in the winter — just go outside. It'll be dry and frizz-free in no time.