The Designer-Approved Tip That'll Make Renovating Your Home A Breeze (& More Affordable)
Courtesy of Sweeten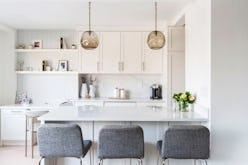 With home renovation inspo everywhere — Instagram, Pinterest, HGTV — it's tempting to want to jump on the upgrade train. Luckily, remodeling your living space can be a smart investment, adding equity in your home, if done right. In reality, knocking down walls and installing granite countertops isn't as easy as it appears on TV, and with lots of factors to consider (and potential unknowns that can catch you by surprise), home projects can become quite complicated. If you want to renovate your home but are not sure where to start, experts agree that the first order of business is to define your vision and priorities, then hire pros to do the demolishing and heavy lifting.
Ahead, four renovation gurus give their best advice for embarking on a home renovation project. From designing and planning, to first-timer tips, to hiring the best contractor for the job, these pointers will get you started on the overwhelming process of updating your abode. If you've been thinking about renovating your space, read this first; it could help you avoid some costly mistakes (and a few headaches) along the way.
Decide On How You Want Your Space To Be Used
Yes, renovations will make your home prettier, but it's important to think in terms of practicality, too. Jean Brownhill, founder and CEO of Sweeten, a free service that matches renovators with vetted general contractors, explains this crucial first step. "Think about the way you want to live," she recommends. "Do you love to entertain or have a growing family? An open plan with the kitchen and living spaces makes for easy prep while chatting with your guests, or keeping an eye on the kids. You can also reconfigure your space to maximize storage, such as combining smaller closets or adding new ones."
Kate Lester, interior designer and owner of Kate Lester Interiors, adds that after you establish the big picture, you can focus on the details. "Once you have your scope of work determined, then I would suggest moving on to selecting materials, lighting, hardware, appliances, anything a contractor or professional would be installing in the space," she advises. "This way, when you are getting bids, you can show your contractor your exact selections. This is a great way to get really accurate pricing, as well as prevent any unforeseen issues with materials or lead times after the items have already been purchased."
Lay Out Your Priorities
Maureen Stevens, interior designer and owner of Maureen Stevens Design, says that identifying priorities like budget, turnaround time, and capturing your vision (no matter the cost) should also be part of preliminary planning. "More often than not, there is a hierarchy," she says. "For example, if budget is a top priority, then the client should be willing to understand that some design items may be eliminated. On the other hand, while some clients may say that budget is their number one priority, they might end up changing their minds when they see exactly what materials are within their budget."
Often, says Stevens, clients realize that "design vision is really their number one priority."
Create Your List Of "Must-Haves" & "Nice-To-Have's"
Speaking of priorities, it's helpful to identify what you'd like versus what you can't live without. "Create a 'must-have and a 'nice-to-have' list," suggests Brownhill. "It may seem trivial, but this will help you set priorities, especially when it comes to setting a budget. Your 'must-haves' are a mix of items that have to be completed, including necessary repairs, plus items you won't compromise on. Your 'nice-to-haves' are items you certainly want to include in your project plan, but that could drop off if your budget falls short."
Take Outdoor Space Into Account
When it comes to upgrading your home, don't forget to consider your outdoor areas, too. In fact, a functional backyard or patio area (even if it's small) will add square footage to your living space. "It's common practice for homeowners to start with an interior renovation, then turn to the outdoor space ... which is great, as long as they're ensuring that the flow from indoor to outdoor living works," says Allison Messner, co-founder of Yardzen, an online service for designing outdoor spaces. "People often overlook (and under-budget) their outdoor space when embarking on an interior renovation, then end up wishing they'd made different decisions about things like where to put an exterior door or proximity of a patio with outdoor dining to the kitchen."
Hire The Right General Contractor
This part can be so tricky that Brownhill built her entire business on this niche need. "The biggest (and most consequential) mistake is hiring the wrong general contractor," she points out. "Friend referrals and reviews are important, but there are more pieces to the puzzle. At Sweeten, we match homeowners with a minimum of three vetted general contractors who've completed similar work to the homeowners' project and fall within their budget range, so the match makes sense all around."
When researching general contractors, she emphasizes the importance of checking for their HIC (Home Improvement Contractor) license as well as conducting interviews to make sure their vision and communication style matches up with yours. You can also request client referrals and ask if it's possible to peek at one of their current job sites. "I cannot tell you how many times someone tells me they didn't trust their gut in NOT hiring a general contractor, or that they didn't bother to call references, only to pay the price," Brownhill warns.
Messner mentions another solution. "Many design firms —Yardzen included — have deeply-rooted relationships with contractors and I'd recommend giving them a good, long look," she says. "It's in your best interest to have your designer talking to your contractor, and if you can have a team behind your project the odds of it going well increase dramatically."
General Do's & Don'ts
Do:
Hire a professional. "Most people don't realize how many moving parts are involved in something even as simple as a kitchen remodel," says Lester. "You need a cabinet maker, a stone fabricator, an electrician, a plumber, a tile contractor, a wood floor person, a painter ... the list goes on."
Anticipate (and budget for) hiccups. "The truth is, every renovation will more than likely go a little over budget, take a little longer than anticipated, and will probably make you want to pull out your hair at one moment or another," Lester admits. "The good news is that planning ahead of time, getting your selections dialed in, and hiring a professional will minimize these issues and make the process run more smoothly overall."
Stay in-the-know. "Ask for periodic meetings and recaps, whether those are via e-mail, phone/video calls or in-person meetings," suggests Stevens. "Checking up on the progress after establishing initial timelines is a must, but it's also important not to micromanage anyone."
Don't:
Pay 100 percent of contractor costs up front. "I have heard this one too many times from other peoples' experiences," says Stevens. "Make sure to ask for a payment agreement that works for both parties."
Order all your materials too soon. "We often recommend ordering fixtures ahead of demolition so that delivery delays don't affect your overall timeline," says Brownhill. "Check in with your contractor to make sure you're ordering the right sizes that'll fit existing pipes, electrical, etc. Sometimes returns aren't possible."
Go for the cheapest contractor for the sake of cutting corners. "Another mistake is hiring a contractor just because they're the most affordable," adds Stevens. "The old adage, 'you get what you pay for,' usually applies when it comes to contractor work."