The Coolest Interior Designers To Follow On Instagram Right Now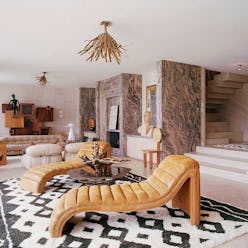 We're not sure what's more fun, redecorating your space or spending hours online bookmarking dreamy dwellings as inspo for the revamp that may or may not ever happen. Either way, there's something about a beautiful room that really gets the creative juices flowing. Head over to Instagram for some captivating home-styling ideas from the coolest of-the-moment interior designers. Their picture-perfect renos, one-of-a-kind resources and real-life decorating tips will have you inspired to get your own project in gear.
Kelly Wearstler (@kellywearstler)
Follow for: jaw-dropping interiors with an artistic emphasis.
Amber Lewis (@amberinteriors)
Follow for: a New Age approach to bohemian design and decor.
Nickey Kehoe (@nickeykehoe)
Follow for: the LA way to style vintage-inspired furnishings.
Jeremiah Brent (@jeremiahbrent)
Follow for: a clean, modern aesthetic.
Emily Henderson (@em_henderson)
Follow for: tips and tricks on how to nail the look for less.
Sarah Sherman Samuel (@sarahshermansamuel)
Follow for: beautiful renovations and unexpected pops of color.
Kelly Behun (@kellybehunstudio)
Follow for: grandiose homes and aspirational architecture for days.
Consort Design (@consortdesign)
Follow for: celebrity redesigns and cutting-edge accents.