Huda Beauty's Newest Palettes Are Proof This Fashion Trend Is About To Become A Staple In Your Makeup Routine
Huda Beauty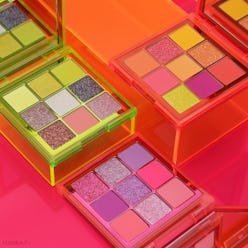 In case you haven't noticed, neons are having a serious moment right now. And if you haven't gotten enough of the spectrum's hottest shades in your wardrobe over the past couple seasons, there's only one thing to do next — work them into your makeup routine. A flash of vivid color on your eyes is a surefire way to create a statement-making look, and the Huda Beauty Neon Obsessions Pressed Pigment Palettes are all you'll need to do it. It's never been easier to look nice in neon.
You and all your style-savvy friends aren't the only ones who've picked up on the incredibly bright neon trend that's taken the fashion world by storm. Cult-loved cosmetics brand Huda Beauty has been taking notes too, and taken inspiration from the trend to create its all new Neon Obsessions pressed pigment palettes, which launched at the brand's site on May 30 just in time for the hottest months of the year. Whether you've already got a closet full of neon wares or you're looking for a way into taking the look for a spin, these are a striking yet seamless way to do it.
The bold eyeshadow palette, $29, comes in three different nine-shade collections with packaging as bright as the colors inside: Neon Green, Neon Pink, and Neon Orange. Depending on which palette you pick up, inside you'll find a range of finishes that includes creamy matte, shimmer, metallic, and duo-chrome, which will help you create looks that are as subtle or as exciting as you like. The super-blendable shades make mixing more than one shade together a total breeze — but the intensely pigmented shadows are more than perfect worn on their own, too.
And before you think the neon pressed pigments couldn't possibly be wearable on most occasions, think again. With these vivid colors, a little goes a long way — so if you're uneasy about a fully neon eye, select your favorite shade to line your lid with a sleek swipe of bright shadow (a lime green hue from the Neon Green palette, or a pop of magenta or purple from the Neon Pink palette would be perfect).
But if you're ready to go all in with neon, create a gradient eye by blending a darker shade into your crease and dusting lighter hues along your brown bone and inner corner of your eyes. The Neon Orange palette is practically made for recreating the colors of a summer sunset on your eyes, with buttery mattes in shades of orange, pink, and golden yellow. Tap a touch of the complementary shimmer shadows onto the center of your lids for a dazzling effect.
Convinced you could use a dose of neon color in your summer beauty routine? Keep scrolling to shop your favorite palette shade from Huda Beauty below, or scoop it up at Sephora starting June 7.