Here's When You Can Finally Get Your Hands On Fenty Beauty's Colorful New Makeup Collection
Fenty Beauty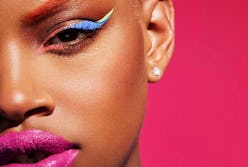 If there were ever a time to turn up the heat on your makeup routine, it would be during the summer. With temperatures on the rise around you as the season draws nearer, you may be tempted to take things up a notch yourself, opting for bolder, brighter shades that mirror the warm, steamy atmosphere of summer. And if you're still on the hunt for the perfect pops of color to add to your beauty shelf you're in luck, because Fenty Beauty's Getting Hotter collection is coming soon — and it's completely bursting with statement-making shades.
When it comes to Rihanna's cult-loved beauty line, Fenty Beauty, she's been known to keep an item or two up her sleeve, unveiling her latest product launches when her dedicated fanbase least expects it. And the forthcoming Fenty Beauty Getting Hotter collection is no exception. After the drop of the brand's new Sun Stalk'r bronzer in April — and the hush-hush news of an upcoming skin care launch — you might've thought you'd heard the last from the bestselling brand for the time being. So that's when Rihanna and her team made their move.
On May 1, Fenty Beauty took to Instagram to reveal that its limited-edition Summer 2019 collection will be dropping on May 10, and it'll be delivering a major dose of color just in time for the hottest season. The Getting Hotter collection, which will be up for grabs on the brand's site, at Sephora, and at Harvey Nichols department stores upon its launch date, includes not one but three liquid eyeliner trios, and a total of seven super-pigmented lipsticks in vivid, look-at-me colors.
The Vivid Liquid Eyeliner Trios, $35 each, give you ideally coordinated colors to wear together or alone — and as she's done in the past, Rihanna has already sported some of the shades to show you how it's done. If you happened to spot her May 2019 Harper's Bazaar cover, you'll see a lime green and a hot pink liner around her eye. Turns out both are part of the Baewatch Vivid Liquid Eyeliner Trio, and are joined by a bold sky blue to round out the set.
The Baeside set, on the other hand, boasts papaya, pastel lime, and periwinkle shades, while Baecay offers up bright white, bubblegum pink, and banana yellow hues. Blend a dash of each soft neon shade across the top of your lid to highlight your eyes, or get creative with dots and slashes wherever you like.
And for your lips, the limited-edition collection includes seven shades of the Poutsicle Juicy Satin Lipstick, a highly-pigmented formula that hugs your pout comfortably and provides just the right amount of satiny shine. Each of the $20 tubes seems bolder than the one before — so you can't go wrong with any if you're looking to make a statement this summer.
Tropic Tantrum, a true hot pink, and Sun Snatched, a juicy orange, are both classic bright colors of the season, while unique hues like rich teal Go Deep take statement shades to a whole new level. Give them a try for summer nights out with friends or days spent by the pool.
Keep scrolling to discover all the products from Fenty Beauty's soon-to-launch summer collection, and mark your calendar for May 10 so you can be sure to score your favorites for yourself.